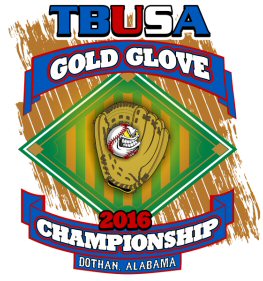 2016 GOLD GLOVE CHAMPIONSHIP
WESTGATE SPORTS COMPLEX / DOTHAN, AL
July 30, 2016 through July 31, 2016
**2016 BASEBALL SCHEDULE** (DOTHAN, AL)
ENTRY FEE: 7U-8U $250, 9U-13U $350. REGISTER EARLY and SAVE $$$. LIMITED SLOTS AVAILABLE. REGISTER YOUR TEAM TODAY AND JUST PLAY!!!
BRACKETS POSTED
**GAME TIMES CST**
10U TEAM ADDED PLEASE LOOK AT UPDATED SCHEDULE

10U - EASTGATE SPORTS COMPLEX - 2049 SANITARY DAIRY RD., ASHFORD, AL 36312
8U / 11U / 12U - WESTGATE SOFTBALL COMPLEX - 201 RECREATION RD., DOTHAN, AL 36303
13U - WESTGATE MIRACLE FIELD COMPLEX - 501 RECREATION RD., DOTHAN, AL 36303

HOMERUN DERBY WILL BE SATURDAY 12:00 NOON @ WESTGATE SOFTBALL COMPLEX - WE WILL PLAY FIRST TWO GAMES IN THE MORNING THEN HAVE THE HOMERUN DERBY - TOURNAMENT WILL RESUME
COACHES PLEASE EMAIL (3) PARTICIPANTS FROM EACH TEAM TO JUSTPLAY@USATRAVELTOURNAMENTS.COM
HOMERUN DERBY RULES - COACH FROM EACH TEAM WILL THROW 10 PITCHES TO EACH PLAYER. COACH GETS 1 WARM UP PITCH PLAYER MAY SWING AT WARM UP PITCH
Host Hotels

LaQuinta Inns & Suites
3593 Ross Clark Circle
Dothan, Alabama 36303
Crystal Daniels / Sales Manager
phone: (334) 793-9090
email: lq6272agm@laquinta.com
Rate: $79.00 night w/ breakfast
THANK YOU FOR PLAYING

(1) GOLD GLOVE TROPHY IN EACH AGE DIVISION PER SEASON - SIGN UP TO PLAY FOR THIS SIGNATURE TROPHY

COACHES ONLY (1) TEAM COOLER ALLOWED IN PARK.
NO PERSONAL COOLERS ALLOWED IN PARK.
Tournament Entry Deadline: JULY 27, 2016 at 6 pm
Pay online or make checks payable to TBUSA.
Saturday games will consist of pool play. Seeding will be based on Saturdays performance leading into Sundays Championship with single elimination play. Team trophies with individual awards for 1st and 2nd place teams in each age division.
7U
8U
Jackson County Bulldogs
8
Marianna, FL
Lynn Haven Lightning
7
Lynn Haven, FL
Tallahasse Stix 8U
8
Tallahassee, FL
9U
10U
Panhandle Panthers
10
Marianna, FL
Panhandle Predators
10
Defuniak springs, FL
Amber Jax
10
Shalimar, FL
South Georgia GIANTS
10
Bainbridge, GA
RTG Broadheads
10
Grady, AL
GAMECOCKS
10
New Brockton, AL
Saints 10U
10
PORT ST JOE, FL
DKSA ELITE 10U
10
Thomasville, GA
11U
Enterprise Express 12-U
11
COFFEE SPGS, AL
Henry County River Bandits
11
Abbeville, AL
Lynn Haven Dolphins
11
Lynn Haven, FL
Southern Sluggers
11
Albany, GA
Diamond Dawgs
11
Crestview, FL
Wiregrass Cardinals
11
Dothan, AL
LowCo Bombers
11
Valdosta, GA
Lee County Elite
11
Leesburg, GA
Lee Shockers 11U
11
Leesburg, GA
Titans
11
Enterprise, AL
Gulf Coast Heat Demarini
11
Santa Rosa beach, FL
12U
Lynn Haven Dolphins
12
Lynn Haven, FL, FL
NGS Sluggers
12
Chipley, FL
Rehobeth Athletics
12
Newton, AL
Raptors
12
Panama City, FL
South Georgia Outlaws ORANGE
12
Moultrie, GA
Panhandle All Stars
12
Panhandle, FL
Chiefs
12
Blountstown, FL
Amberjax
12
Lynn Haven, FL
Strikers baseball
12
Skipperville, AL
13U
Big League Xpress BLACK
13
Panhandle, FL
North Florida Riptide
13
Crawfordville, FL
Dothan Nationals
13
Dothan, AL
14U
15U
16U
17U
18U

Print Brackets
8U
Tallahasse Stix 8U
Lynn Haven Lightning
-vs-
07/30/2016 - 9:00 AM
FIELD 3 (WESTGATE)
Tallahasse Stix 8U
Lynn Haven Lightning
-vs-
07/30/2016 - 10:30 AM
FIELD 3 (WESTGATE)
10U
DKSA ELITE 10U
GAMECOCKS
-vs-
07/30/2016 - 8:00 AM
FIELD 4 (EASTGATE)
Panhandle Panthers
Panhandle Predators
-vs-
07/30/2016 - 8:00 AM
FIELD 5 (EASTGATE)
South Georgia GIANTS
Amber Jax
-vs-
07/30/2016 - 9:50 AM
FIELD 4 (EASTGATE)
Saints 10U
Panhandle Predators
-vs-
07/30/2016 - 9:50 AM
FIELD 5 (EASTGATE)
Saints 10U
GAMECOCKS
-vs-
07/30/2016 - 1:40 PM
FIELD 4 (EASTGATE)
RTG Broadheads
Panhandle Panthers
-vs-
07/30/2016 - 1:40 PM
FIELD 5 (EASTGATE)
RTG Broadheads
South Georgia GIANTS
-vs-
07/30/2016 - 3:30 PM
FIELD 5 (EASTGATE)
DKSA ELITE 10U
Amber Jax
-vs-
07/30/2016 - 3:30 PM
FIELD 4 (EASTGATE)
GAMECOCKS
Panhandle Predators
-vs-
07/31/2016 - 9:00 AM
FIELD 5 (EASTGATE) GAME 1
South Georgia GIANTS
Panhandle Panthers
-vs-
07/31/2016 - 9:00 AM
FIELD 4 (EASTGATE) GAME 2
RTG Broadheads
Saints 10U
-vs-
07/31/2016 - 10:50 AM
FIELD 5 (EASTGATE) GAME 3
DKSA ELITE 10U
Amber Jax
-vs-
07/31/2016 - 10:50 AM
FIELD 4 (EASTGATE) GAME 4
GAMECOCKS
RTG Broadheads
-vs-
07/31/2016 - 12:40 PM
FIELD 5 (EASTGATE) GAME 5
South Georgia GIANTS
DKSA ELITE 10U
-vs-
07/31/2016 - 12:40 PM
FIELD 4 (EASTGATE) GAME 6
RTG Broadheads
DKSA ELITE 10U
-vs-
07/31/2016 - 2:30 PM
FIELD 5 (EASTGATE) CHAMPIONSHIP
11U
Southern Sluggers
Wiregrass Cardinals
-vs-
07/30/2016 - 8:00 AM
FIELD 1 (WESTGATE)
LowCo Bombers
Titans
-vs-
07/30/2016 - 8:00 AM
FIELD 2 (WESTGATE)
Southern Sluggers
LowCo Bombers
-vs-
07/30/2016 - 9:50 AM
FIELD 1 (WESTGATE)
Diamond Dawgs
Lee County Elite
-vs-
07/30/2016 - 9:50 AM
FIELD 2 (WESTGATE)
Enterprise Express 12-U
Lee County Elite
-vs-
07/30/2016 - 1:40 PM
FIELD 1 (WESTGATE)
Diamond Dawgs
Titans
-vs-
07/30/2016 - 1:40 PM
FIELD 2 (WESTGATE)
Lynn Haven Dolphins
Lee Shockers 11U
-vs-
07/30/2016 - 1:40 PM
FIELD 5 (WESTGATE)
Henry County River Bandits
Gulf Coast Heat Demarini
-vs-
07/30/2016 - 3:30 PM
FIELD 1 (WESTGATE)
Lynn Haven Dolphins
Wiregrass Cardinals
-vs-
07/30/2016 - 3:30 PM
FIELD 2 (WESTGATE)
Henry County River Bandits
Lee Shockers 11U
-vs-
07/30/2016 - 5:20 PM
FIELD 1 (WESTGATE)
Enterprise Express 12-U
Gulf Coast Heat Demarini
-vs-
07/30/2016 - 5:20 PM
FIELD 2 (WESTGATE)
Lee Shockers 11U
Southern Sluggers
-vs-
07/31/2016 - 8:00 AM
FIELD 1 (WESTGATE) GAME 1
Titans
Lee County Elite
-vs-
07/31/2016 - 8:00 AM
FIELD 2 (WESTGATE) GAME 2
LowCo Bombers
Lynn Haven Dolphins
-vs-
07/31/2016 - 8:00 AM
FIELD 4 (WESTGATE) GAME 3
Henry County River Bandits
Gulf Coast Heat Demarini
-vs-
07/31/2016 - 9:50 AM
FIELD 1 (WESTGATE) GAME 4
Wiregrass Cardinals
LowCo Bombers
-vs-
07/31/2016 - 9:50 AM
FIELD 2 (WESTGATE) GAME 5
Diamond Dawgs
Southern Sluggers
-vs-
07/31/2016 - 11:40 AM
FIELD 1 (WESTGATE) GAME 6
Enterprise Express 12-U
Lee County Elite
-vs-
07/31/2016 - 11:40 AM
FIELD 2 (WESTGATE) GAME 7
Gulf Coast Heat Demarini
Southern Sluggers
-vs-
07/31/2016 - 1:30 PM
FIELD 1 (WESTGATE) GAME 8
Wiregrass Cardinals
Enterprise Express 12-U
-vs-
07/31/2016 - 1:30 PM
FIELD 2 (WESTGATE) GAME 9
Gulf Coast Heat Demarini
Enterprise Express 12-U
-vs-
07/31/2016 - 3:20 PM
FIELD 1 (WESTGATE) CHAMPIONSHIP
12U
Strikers baseball
Chiefs
-vs-
07/30/2016 - 8:00 AM
FIELD 4 (WESTGATE)
NGS Sluggers
Panhandle All Stars
-vs-
07/30/2016 - 8:00 AM
FIELD 5 (WESTGATE)
Strikers baseball
Lynn Haven Dolphins
-vs-
07/30/2016 - 9:50 AM
FIELD 4 (WESTGATE)
NGS Sluggers
Chiefs
-vs-
07/30/2016 - 9:50 AM
FIELD 5 (WESTGATE)
Raptors
Panhandle All Stars
-vs-
07/30/2016 - 1:40 PM
FIELD 4 (WESTGATE)
South Georgia Outlaws ORANGE
Lynn Haven Dolphins
-vs-
07/30/2016 - 3:30 PM
FIELD 4 (WESTGATE)
Amberjax
Rehobeth Athletics
-vs-
07/30/2016 - 3:30 PM
FIELD 5 (WESTGATE)
South Georgia Outlaws ORANGE
Amberjax
-vs-
07/30/2016 - 5:20 PM
FIELD 4 (WESTGATE)
Raptors
Rehobeth Athletics
-vs-
07/30/2016 - 5:20 PM
FIELD 5 (WESTGATE)
South Georgia Outlaws ORANGE
Raptors
-vs-
07/31/2016 - 8:00 AM
FIELD 5 (WESTGATE) GAME 1
NGS Sluggers
Strikers baseball
-vs-
07/31/2016 - 9:50 AM
FIELD 5 (WESTGATE) GAME 2
Panhandle All Stars
Rehobeth Athletics
-vs-
07/31/2016 - 9:50 AM
FIELD 4 (WESTGATE) GAME 3
Amberjax
Chiefs
-vs-
07/31/2016 - 11:40 AM
FIELD 4 (WESTGATE) GAME 4
Lynn Haven Dolphins
South Georgia Outlaws ORANGE
-vs-
07/31/2016 - 11:40 AM
FIELD 5 (WESTGATE) GAME 5
Strikers baseball
South Georgia Outlaws ORANGE
-vs-
07/31/2016 - 1:30 PM
FIELD 5 (WESTGATE) GAME 6
Panhandle All Stars
Amberjax
-vs-
07/31/2016 - 1:30 PM
FIELD 4 (WESTGATE) GAME 7
Panhandle All Stars
South Georgia Outlaws ORANGE
-vs-
07/31/2016 - 3:20 PM
FIELD 5 (WESTGATE) CHAMPIONSHIP
13U
Big League Xpress BLACK
North Florida Riptide
-vs-
07/30/2016 - 9:30 AM
MIRACLE FIELD (WESTGATE)
North Florida Riptide
Dothan Nationals
-vs-
07/30/2016 - 1:40 PM
MIRACLE FIELD (WESTGATE)
Dothan Nationals
Big League Xpress BLACK
-vs-
07/30/2016 - 3:40 PM
MIRACLE FIELD (WESTGATE)
Big League Xpress BLACK
North Florida Riptide
-vs-
07/31/2016 - 10:00 AM
MIRACLE FIELD (WESTGATE) GAME 1
Dothan Nationals
Big League Xpress BLACK
-vs-
07/31/2016 - 12:30 PM
MIRACLE FIELD (WESTGATE) CHAMPIONSHIP
| | | | | |
| --- | --- | --- | --- | --- |
| Tallahasse Stix 8U | 2-0-0 | 0-0-0 | 1 | 1 |
| Lynn Haven Lightning | 0-2-0 | 0-0-0 | 2 | 2 |
Games
| | | | | |
| --- | --- | --- | --- | --- |
| 7-30 | Tallahasse Stix 8U | 21 | Lynn Haven Lightning | 1 |
| 7-30 | Tallahasse Stix 8U | 15 | Lynn Haven Lightning | 2 |
| | | | | |
| --- | --- | --- | --- | --- |
| Amber Jax | 0-3-0 | 0-0-0 | 0 | 7 |
| Saints 10U | 0-3-0 | 0-0-0 | 0 | 8 |
| South Georgia GIANTS | 2-2-0 | 0-0-0 | 0 | 3 |
| Panhandle Predators | 1-2-0 | 0-0-0 | 0 | 5 |
| GAMECOCKS | 2-2-0 | 0-0-0 | 0 | 4 |
| Panhandle Panthers | 1-2-0 | 0-0-0 | 0 | 6 |
| RTG Broadheads | 4-0-0 | 0-0-0 | 1 | 1 |
| DKSA ELITE 10U | 4-0-0 | 0-0-0 | 2 | 2 |
Games
| | | | | |
| --- | --- | --- | --- | --- |
| 7-30 | DKSA ELITE 10U | 11 | GAMECOCKS | 2 |
| 7-30 | Panhandle Panthers | 14 | Panhandle Predators | 0 |
| 7-30 | South Georgia GIANTS | 6 | Amber Jax | 3 |
| 7-30 | Saints 10U | 4 | Panhandle Predators | 7 |
| 7-30 | Saints 10U | 7 | GAMECOCKS | 18 |
| 7-30 | RTG Broadheads | 21 | Panhandle Panthers | 2 |
| 7-30 | RTG Broadheads | 10 | South Georgia GIANTS | 0 |
| 7-30 | DKSA ELITE 10U | 10 | Amber Jax | 7 |
| 7-31 | GAMECOCKS | 11 | Panhandle Predators | 4 |
| 7-31 | South Georgia GIANTS | 10 | Panhandle Panthers | 4 |
| 7-31 | RTG Broadheads | 20 | Saints 10U | 0 |
| 7-31 | DKSA ELITE 10U | 12 | Amber Jax | 0 |
| 7-31 | GAMECOCKS | 1 | RTG Broadheads | 14 |
| 7-31 | South Georgia GIANTS | 2 | DKSA ELITE 10U | 5 |
| 7-31 | RTG Broadheads | - | DKSA ELITE 10U | - |
| | | | | |
| --- | --- | --- | --- | --- |
| Lynn Haven Dolphins | 0-3-0 | 0-0-0 | 0 | 11 |
| Lee Shockers 11U | 1-2-0 | 0-0-0 | 0 | 8 |
| Henry County River Bandits | 1-2-0 | 0-0-0 | 0 | 4 |
| Southern Sluggers | 2-3-0 | 0-0-0 | 0 | 9 |
| Lee County Elite | 1-3-0 | 0-0-0 | 0 | 10 |
| Wiregrass Cardinals | 3-1-0 | 0-0-0 | 0 | 3 |
| LowCo Bombers | 2-2-0 | 0-0-0 | 0 | 6 |
| Titans | 1-2-0 | 0-0-0 | 0 | 7 |
| Diamond Dawgs | 2-1-0 | 0-0-0 | 0 | 1 |
| Enterprise Express 12-U | 4-0-0 | 0-0-0 | 1 | 2 |
| Gulf Coast Heat Demarini | 3-1-0 | 0-0-0 | 2 | 5 |
Games
| | | | | |
| --- | --- | --- | --- | --- |
| 7-30 | Southern Sluggers | 9 | Wiregrass Cardinals | 14 |
| 7-30 | LowCo Bombers | 6 | Titans | 7 |
| 7-30 | Southern Sluggers | 6 | LowCo Bombers | 7 |
| 7-30 | Diamond Dawgs | 10 | Lee County Elite | 0 |
| 7-30 | Enterprise Express 12-U | 13 | Lee County Elite | 2 |
| 7-30 | Diamond Dawgs | 8 | Titans | 5 |
| 7-30 | Lynn Haven Dolphins | 4 | Lee Shockers 11U | 9 |
| 7-30 | Henry County River Bandits | 4 | Gulf Coast Heat Demarini | 5 |
| 7-30 | Lynn Haven Dolphins | 0 | Wiregrass Cardinals | 21 |
| 7-30 | Henry County River Bandits | 15 | Lee Shockers 11U | 2 |
| 7-30 | Enterprise Express 12-U | 8 | Gulf Coast Heat Demarini | 6 |
| 7-31 | Lee Shockers 11U | 5 | Southern Sluggers | 19 |
| 7-31 | Titans | 5 | Lee County Elite | 13 |
| 7-31 | LowCo Bombers | 18 | Lynn Haven Dolphins | 1 |
| 7-31 | Henry County River Bandits | 3 | Gulf Coast Heat Demarini | 4 |
| 7-31 | Wiregrass Cardinals | 9 | LowCo Bombers | 8 |
| 7-31 | Diamond Dawgs | 8 | Southern Sluggers | 10 |
| 7-31 | Enterprise Express 12-U | 10 | Lee County Elite | 0 |
| 7-31 | Gulf Coast Heat Demarini | 6 | Southern Sluggers | 5 |
| 7-31 | Wiregrass Cardinals | 1 | Enterprise Express 12-U | 8 |
| 7-31 | Gulf Coast Heat Demarini | - | Enterprise Express 12-U | - |
| | | | | |
| --- | --- | --- | --- | --- |
| Raptors | 0-3-0 | 0-0-0 | 0 | 9 |
| Amberjax | 3-1-0 | 0-0-0 | 0 | 2 |
| Rehobeth Athletics | 1-2-0 | 0-0-0 | 0 | 6 |
| Strikers baseball | 2-2-0 | 0-0-0 | 0 | 5 |
| Lynn Haven Dolphins | 2-1-0 | 0-0-0 | 0 | 1 |
| Chiefs | 1-2-0 | 0-0-0 | 0 | 7 |
| NGS Sluggers | 1-2-0 | 0-0-0 | 0 | 4 |
| Panhandle All Stars | 3-1-0 | 0-0-0 | 1 | 3 |
| South Georgia Outlaws ORANGE | 3-2-0 | 0-0-0 | 2 | 8 |
Games
| | | | | |
| --- | --- | --- | --- | --- |
| 7-30 | Strikers baseball | 11 | Chiefs | 6 |
| 7-30 | NGS Sluggers | 7 | Panhandle All Stars | 4 |
| 7-30 | Strikers baseball | 4 | Lynn Haven Dolphins | 6 |
| 7-30 | NGS Sluggers | 4 | Chiefs | 7 |
| 7-30 | Raptors | 2 | Panhandle All Stars | 12 |
| 7-30 | South Georgia Outlaws ORANGE | 3 | Lynn Haven Dolphins | 13 |
| 7-30 | Amberjax | 6 | Rehobeth Athletics | 1 |
| 7-30 | South Georgia Outlaws ORANGE | 6 | Amberjax | 7 |
| 7-30 | Raptors | 9 | Rehobeth Athletics | 19 |
| 7-31 | South Georgia Outlaws ORANGE | 11 | Raptors | 0 |
| 7-31 | NGS Sluggers | 5 | Strikers baseball | 9 |
| 7-31 | Panhandle All Stars | 9 | Rehobeth Athletics | 3 |
| 7-31 | Amberjax | 16 | Chiefs | 4 |
| 7-31 | Lynn Haven Dolphins | 7 | South Georgia Outlaws ORANGE | 9 |
| 7-31 | Strikers baseball | 2 | South Georgia Outlaws ORANGE | 9 |
| 7-31 | Panhandle All Stars | 11 | Amberjax | 3 |
| 7-31 | Panhandle All Stars | - | South Georgia Outlaws ORANGE | - |
| | | | | |
| --- | --- | --- | --- | --- |
| North Florida Riptide | 0-3-0 | 0-0-0 | 0 | 3 |
| Big League Xpress BLACK | 3-0-1 | 0-0-0 | 1 | 2 |
| Dothan Nationals | 1-1-1 | 0-0-0 | 2 | 1 |
Games
| | | | | |
| --- | --- | --- | --- | --- |
| 7-30 | Big League Xpress BLACK | 3 | North Florida Riptide | 2 |
| 7-30 | North Florida Riptide | 1 | Dothan Nationals | 11 |
| 7-30 | Dothan Nationals | 10 | Big League Xpress BLACK | 10 |
| 7-31 | Big League Xpress BLACK | 12 | North Florida Riptide | 4 |
| 7-31 | Dothan Nationals | 6 | Big League Xpress BLACK | 14 |
Event Address: 501 RECREATION RD., DOTHAN, AL 36303

Map and Directions
Weather:
Host Hotels

LaQuinta Inns & Suites
3593 Ross Clark Circle
Dothan, Alabama 36303
Crystal Daniels / Sales Manager
phone: (334) 793-9090
email: lq6272agm@laquinta.com
Rate: $79.00 night w/ breakfast