Welcome!  This organization is your one-stop source for quality, family-oriented youth sports tournaments. We know that players and coaches want to do one thing....PLAY BALL....and that is why we have developed our organization with simplicity in mind.  Browse through our website and see how your team can be a part of this new era of travel ball. 
TBUSA Advantage one Owner/Director creating a personal relationship.

Register your team roster online and Just Play!  Come join us today!!

For more information, please contact us at (850) 583-1042
2017 FALL DATES POSTED 
FILLING UP - DON'T MISS OUT - SIGN UP TODAY
***REMEMBER TO MOVE UP TEAMS AGE DIVISION AUGUST 1, 2017*** 
**NO PREPAYMENT** 
LIMITED SPACE - DON'T WAIT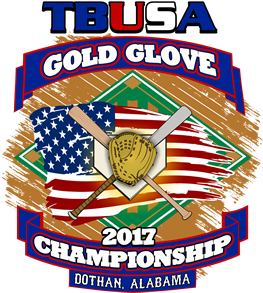 **TBUSA ANNOUNCES 8U PLAY FREE IN 2017**
TBUSA GOING PINK OCTOBER 7-8 JOIN THE FIGHT
JOIN TBUSA FOR THE 1ST ANNUAL CHILDHOOD CANCER AWARENESS EVENT
OCTOBER 28-29
LET'S END THE YEAR BY STANDING UP TO CANCER FOR THE KIDS

TBUSA WILL DONATE TO ST. JUDE CHILDREN'S RESEARCH HOSPITAL

LOOKING FOR A TEAM/PLAYER GOTO INFORMATION ADD YOUR LISTING

***LET'S PLAY BALL***
2016-17 SEASON CHAMPIONS ***SPRINT FOR FIRST***  IN EACH AGE DIVISION RECEIVE A FREE ENTRY TO THE 2017 GOLD GLOVE CHAMPIONSHIP TOURNAMENT
 AUGUST 1, 2016 STARTS THE NEW TBUSA 2016-2017 SEASON.  PLEASE REMEMBER ALL PLAYERS AGES WILL CHANGE AS OF THIS DATE.  HOPE TO SEE YOU IN THE FALL AND SPRING. 
TBUSA presents a Most Valuable Player Trophy (Winners of each age division will receive a M.V.P. Trophy to be presented to a player of their choice at each tournament) 
2017 TBUSA SILVER SLUGGER LEADERS 
MOST HOME RUNS  AS OF6/18/2017 
8U - JASON PARKER - TALLAHASSEE HEAT DEMARINI - 9HR  
9U - COLEMAN BORTHWICH - SW HAWKS - 2HR
10U -CAYDEN BOUTWELL  - ENTERPRISE EXPRESS - 5HR
10U - COOPER MOSS - TALLAHASSEE HEAT - 5HR
11U - HUDSON MANDEL - SW HAWKS - 14HR 
12U - DALTON KUHN - POWERMILL BASEBALL - 13HR
12U - CJ WILKERSON - ENTERPRISE EXPRESS -13HR
13U - ROCK HOLLAND - BIG LEAGUE EXPRESS - 3HR 
2016 TBUSA SPRINT FOR FIRST CHAMPIONS
POINT STANDINGS 
 8U - TALLAHASSEE STIX - TALLAHASSEE, FL 
  9U - HITMEN - ENTERPRISE, AL 
10U - PANHANDLE PANTHERS - MARIANNA, FL 
11U - HENRY COUNTY RIVER BANDITS - ABBEVILLE, AL 
12U - NF MAKOS  - NORTH FLORIDA, FL 
13U - RIVER BANDITS - BLOUNTSTOWN, FL