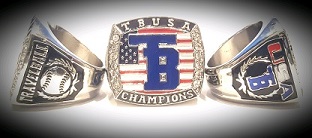 BOLL WEEVIL SMASH III
ENTERPRISE RECREATION PARK / ENTERPRISE, AL
September 8, 2018 through September 9, 2018
**2018 FALL BASEBALL SCHEDULE** (ENTERPRISE, ALABAMA)
ENTRY FEE: 7U-8U FREE, 9U-13U $325. REGISTER EARLY and SAVE $$$. LIMITED SLOTS AVAILABLE. REGISTER YOUR TEAM TODAY AND JUST PLAY!!! NEW SEASON PLAYERS AGE MOVES UP AUGUST 1, 2018.
11U/12U SATURDAY 2:40PM POOL PLAY GAMES WILL START SUNDAY AT 8:00AM. ELIMINATION PLAY WILL START AT 9:40AM PLEASE HAVE ALL TEAMS READY TO PLAY ONCE SEEDING IS COMPLETED AT 9:40AM
**SEEDING GAME TIMES HAVE BEEN UPDATED FOR 11U/12U**
**GAME TIMES CST**
8U/9U/10U - (Fields 3-6) Rec. Center - 421 E. Lee Street, Enterprise, AL 36330
11U/12U/13U - (Fields 1-4) Henderson Park - 1901 Neil Metcalf Rd., Enterprise, AL 36330
13U - NO STEEL CLEATS ON PORTABLE MOUNDS (FIELD 3) HENDERSON PARK
8U - GROUP A (SEED 1-7)
9U - GROUP A (SEED 1-6)
10U - GROUP A (SEED 1-7)
11U - GROUP A (SEED 1-7)
12U - GROUP A (SEED 1-4) <> GROUP B (SEED 5-8)
13U - SATURDAY ONLY

COACHES ONLY (1) TEAM COOLER ALLOWED IN PARK.
NO PERSONAL COOLERS ALLOWED IN PARK.
NO PETS ALLOWED IN PARK.
NO SKATEBOARDS/RAZORS/ETC. OF ANY TYPE ALLOWED IN THE PARK.
Tournament Entry Deadline: September 5, 2018 at 6 pm
Pay online or make checks payable to TBUSA.
Saturday games will consist of pool play. Seeding will be based on Saturdays performance leading into Sundays Championship with single elimination play. Team trophies with individual awards for 1st and 2nd place teams in each age division.
7U
8U
Southern Closers 9U
8
Headland, AL
Wiregrass Naturals
8
Newton, AL
Impact Sports Academy
8
Defuniak Springs, FL
Troy Warriors 9u
8
Troy, AL
Chaos 8u
8
Enterprise, AL
Avengers 8U
8
Enterprise, AL
South Walton Hawks 8U
8
Santa Rosa Beach, FL
9U
Impact Sports Academy
9
Defuniak Springs, FL
Southern Closers 10U
9
Headland, AL
Clutch Cyclones
9
Andalusia, AL
Chaos 9U
9
Enterprise, AL
OVERDRIVE
9
Rehobeth, AL
Sandlot Legends
9
Ashford, AL
10U
Freeport Bulldogs
10
Freeport, FL
Impact Sports Academy - Navy
10
Defuniak Springs, FL
American Thunder
10
Dothan, AL
South Walton Hawks 10U
10
Panhandle, FL
Enterprise Express 10u
10
Enterprise, AL
Southern Closers
10
Dothan, AL
Regulators 10U
10
dothan, AL
11U
Chaos
11
Enterprise, AL
Southern Thunder
11
Cowarts, AL
South Walton Hawks 11u
11
South Walton, FL
SA Dash
11
FLORALA, AL
Iron Sluggers
11
Enterprise, AL
Hi-Def Canes
11
Dothan, AL
Next Gen 2025
11
Parts Unknown, FL
12U
Hitmen
12
Enterprise, AL
Impact Sports Academy
12
Defuniak Springs, FL
Icon Elite 12U
12
Panhandle, FL
Troy Warriors 12u
12
Troy, AL
Enterprise Express 13u
12
enterprise, AL
850 Select
12
Panhandle, FL
Hi-Def Canes
12
Dothan, AL
Crusaders
12
Enterprise, AL
13U
Bama Blue Jays
13
Enterprise, AL
Klutch Baseball
13
Panhandle, FL
HR IMPACT 13U
13
Sant Rosa Beach, FL
14U
15U
16U
17U
18U

Print Brackets
8U
Southern Closers 9U
Wiregrass Naturals
-vs-
09/08/2018 - 8:00 AM
FIELD 6
Wiregrass Naturals
South Walton Hawks 8U
-vs-
09/08/2018 - 9:20 AM
FIELD 6
Southern Closers 9U
Impact Sports Academy
-vs-
09/08/2018 - 10:40 AM
FIELD 6
Avengers 8U
South Walton Hawks 8U
-vs-
09/08/2018 - 12:00 PM
FIELD 6
Impact Sports Academy
Chaos 8u
-vs-
09/08/2018 - 1:20 PM
FIELD 6
Troy Warriors 9u
Avengers 8U
-vs-
09/08/2018 - 2:40 PM
FIELD 6
Chaos 8u
Troy Warriors 9u
-vs-
09/08/2018 - 4:00 PM
FIELD 6
Troy Warriors 9u
South Walton Hawks 8U
-vs-
09/09/2018 - 8:00 AM
FIELD 6 (GM1)
Avengers 8U
Impact Sports Academy
-vs-
09/09/2018 - 9:20 AM
FIELD 6 (GM2)
Chaos 8u
Troy Warriors 9u
-vs-
09/09/2018 - 10:40 AM
FIELD 6 (GM3)
Southern Closers 9U
Wiregrass Naturals
-vs-
09/09/2018 - 12:00 PM
FIELD 6 (GM4)
Avengers 8U
Southern Closers 9U
-vs-
09/09/2018 - 1:20 PM
FIELD 6 (GM5)
Chaos 8u
Avengers 8U
-vs-
09/09/2018 - 2:40 PM
FIELD 6 (CHAMPIONSHIP)
9U
Chaos 9U
Clutch Cyclones
-vs-
09/08/2018 - 8:00 AM
FIELD 3
Impact Sports Academy
Chaos 9U
-vs-
09/08/2018 - 9:40 AM
FIELD 3
Sandlot Legends
Clutch Cyclones
-vs-
09/08/2018 - 11:20 AM
FIELD 3
Southern Closers 10U
Sandlot Legends
-vs-
09/08/2018 - 1:00 PM
FIELD 3
OVERDRIVE
Impact Sports Academy
-vs-
09/08/2018 - 1:00 PM
FIELD 5
OVERDRIVE
Southern Closers 10U
-vs-
09/08/2018 - 2:40 PM
FIELD 5
Chaos 9U
Clutch Cyclones
-vs-
09/09/2018 - 8:00 AM
FIELD 3 (GM1)
Southern Closers 10U
Impact Sports Academy
-vs-
09/09/2018 - 8:00 AM
FIELD 4 (GM2)
Sandlot Legends
Chaos 9U
-vs-
09/09/2018 - 9:40 AM
FIELD 3 (GM3)
OVERDRIVE
Southern Closers 10U
-vs-
09/09/2018 - 11:20 AM
FIELD 3 (GM4)
Sandlot Legends
OVERDRIVE
-vs-
09/09/2018 - 1:00 PM
FIELD 3 (CHAMPIONSHIP)
10U
Southern Closers
Freeport Bulldogs
-vs-
09/08/2018 - 8:00 AM
FIELD 4
Regulators 10U
South Walton Hawks 10U
-vs-
09/08/2018 - 8:00 AM
FIELD 5
Southern Closers
Impact Sports Academy - Navy
-vs-
09/08/2018 - 9:40 AM
FIELD 4
Enterprise Express 10u
American Thunder
-vs-
09/08/2018 - 9:40 AM
FIELD 5
Regulators 10U
Impact Sports Academy - Navy
-vs-
09/08/2018 - 11:20 AM
FIELD 4
Enterprise Express 10u
Freeport Bulldogs
-vs-
09/08/2018 - 11:20 AM
FIELD 5
South Walton Hawks 10U
American Thunder
-vs-
09/08/2018 - 1:00 PM
FIELD 4
American Thunder
Impact Sports Academy - Navy
-vs-
09/09/2018 - 8:00 AM
FIELD 5 (GM1)
Southern Closers
Freeport Bulldogs
-vs-
09/09/2018 - 9:40 AM
FIELD 4 (GM2)
Enterprise Express 10u
South Walton Hawks 10U
-vs-
09/09/2018 - 9:40 AM
FIELD 5 (GM3)
Regulators 10U
Southern Closers
-vs-
09/09/2018 - 11:20 AM
FIELD 4 (GM4)
American Thunder
Enterprise Express 10u
-vs-
09/09/2018 - 11:20 AM
FIELD 5 (GM5)
Enterprise Express 10u
Regulators 10U
-vs-
09/09/2018 - 1:00 PM
FIELD 5 (CHAMPIONSHIP)
11U
Chaos
Next Gen 2025
-vs-
09/08/2018 - 8:00 AM
FIELD 1
SA Dash
Southern Thunder
-vs-
09/08/2018 - 8:00 AM
FIELD 2
Chaos
South Walton Hawks 11u
-vs-
09/08/2018 - 9:40 AM
FIELD 1
SA Dash
Iron Sluggers
-vs-
09/08/2018 - 9:40 AM
FIELD 2
Hi-Def Canes
Next Gen 2025
-vs-
09/08/2018 - 11:20 AM
FIELD 1
Southern Thunder
Iron Sluggers
-vs-
09/08/2018 - 11:20 AM
FIELD 2
South Walton Hawks 11u
Hi-Def Canes
-vs-
09/08/2018 - 1:00 PM
FIELD 1
Southern Thunder
Next Gen 2025
-vs-
09/09/2018 - 9:40 AM
FIELD 4 (GM1)
Chaos
Iron Sluggers
-vs-
09/09/2018 - 9:40 AM
FIELD 2 (GM2)
SA Dash
Hi-Def Canes
-vs-
09/09/2018 - 9:40 AM
FIELD 1 (GM3)
South Walton Hawks 11u
Next Gen 2025
-vs-
09/09/2018 - 11:20 AM
FIELD 4 (GM4)
Chaos
SA Dash
-vs-
09/09/2018 - 1:00 PM
FIELD 4 (GM5)
South Walton Hawks 11u
Chaos
-vs-
09/09/2018 - 2:40 PM
FIELD 4 (CHAMPIONSHIP)
12U
Crusaders
Troy Warriors 12u
-vs-
09/08/2018 - 8:00 AM
FIELD 4
Impact Sports Academy
Crusaders
-vs-
09/08/2018 - 9:40 AM
FIELD 4
Hitmen
Troy Warriors 12u
-vs-
09/08/2018 - 11:20 AM
FIELD 4
850 Select
Hi-Def Canes
-vs-
09/08/2018 - 1:00 PM
FIELD 4
Enterprise Express 13u
Icon Elite 12U
-vs-
09/08/2018 - 1:00 PM
FIELD 2
Enterprise Express 13u
Impact Sports Academy
-vs-
09/08/2018 - 2:40 PM
FIELD 1
Hi-Def Canes
Icon Elite 12U
-vs-
09/08/2018 - 2:40 PM
FIELD 2
Hitmen
850 Select
-vs-
09/08/2018 - 2:40 PM
FIELD 4
Icon Elite 12U
Enterprise Express 13u
-vs-
09/09/2018 - 11:20 AM
FIELD 1 (GROUP A) GM1
Hitmen
850 Select
-vs-
09/09/2018 - 1:00 PM
FIELD 1 (GROUP A) GM2
Icon Elite 12U
Hitmen
-vs-
09/09/2018 - 2:40 PM
FIELD 1 (GROUP A) CHAMPIONSHIP
Crusaders
Troy Warriors 12u
-vs-
09/09/2018 - 11:20 AM
FIELD 2 (GROUP B) GM1
Impact Sports Academy
Hi-Def Canes
-vs-
09/09/2018 - 1:00 PM
FIELD 2 (GROUP B) GM2
Troy Warriors 12u
Hi-Def Canes
-vs-
09/09/2018 - 2:40 PM
FIELD 2 (GROUP B) CHAMPIONSHIP
13U
HR IMPACT 13U
Bama Blue Jays
-vs-
09/08/2018 - 8:00 AM
FIELD 3
Klutch Baseball
Bama Blue Jays
-vs-
09/08/2018 - 9:50 AM
FIELD 3
Klutch Baseball
HR IMPACT 13U
-vs-
09/08/2018 - 11:40 AM
FIELD 3
Seed 2
Seed 3
-vs-
09/08/2018 - 1:30 PM
FIELD 3 (GM1)
Seed 1
Winner Game 1
-vs-
09/08/2018 - 3:20 PM
FIELD 3 (CHAMPIONSHIP)
| | | | | |
| --- | --- | --- | --- | --- |
| Avengers 8U | 5-0-0 | 0-0-0 | 1 | 3 |
| Chaos 8u | 3-1-0 | 0-0-0 | 2 | 1 |
| Southern Closers 9U | 3-1-0 | 0-0-0 | 3 | 2 |
| Troy Warriors 9u | 1-3-0 | 0-0-0 | 4 | 5 |
| South Walton Hawks 8U | 1-2-0 | 4-2-0 | 5 | 4 |
| Impact Sports Academy | 0-3-0 | 0-0-0 | 6 | 6 |
| Wiregrass Naturals | 0-3-0 | 0-0-0 | 7 | 7 |
Games
| | | | | |
| --- | --- | --- | --- | --- |
| 9-08 | Southern Closers 9U | 16 | Wiregrass Naturals | 7 |
| 9-08 | Wiregrass Naturals | 12 | South Walton Hawks 8U | 15 |
| 9-08 | Southern Closers 9U | 15 | Impact Sports Academy | 4 |
| 9-08 | Avengers 8U | 19 | South Walton Hawks 8U | 3 |
| 9-08 | Impact Sports Academy | 1 | Chaos 8u | 14 |
| 9-08 | Troy Warriors 9u | 8 | Avengers 8U | 12 |
| 9-08 | Chaos 8u | 10 | Troy Warriors 9u | 0 |
| 9-09 | Troy Warriors 9u | 14 | South Walton Hawks 8U | 6 |
| 9-09 | Avengers 8U | 16 | Impact Sports Academy | 1 |
| 9-09 | Chaos 8u | 5 | Troy Warriors 9u | 3 |
| 9-09 | Southern Closers 9U | 14 | Wiregrass Naturals | 6 |
| 9-09 | Avengers 8U | 15 | Southern Closers 9U | 3 |
| 9-09 | Chaos 8u | 10 | Avengers 8U | 20 |
| | | | | |
| --- | --- | --- | --- | --- |
| OVERDRIVE | 4-0-0 | 0-0-0 | 1 | 1 |
| Sandlot Legends | 3-1-0 | 0-0-0 | 2 | 2 |
| Chaos 9U | 3-1-0 | 1-2-0 | 3 | 3 |
| Southern Closers 10U | 1-3-0 | 0-0-0 | 4 | 5 |
| Impact Sports Academy | 0-3-0 | 0-0-0 | 5 | 4 |
| Clutch Cyclones | 0-3-0 | 0-0-0 | 6 | 6 |
Games
| | | | | |
| --- | --- | --- | --- | --- |
| 9-08 | Chaos 9U | 18 | Clutch Cyclones | 3 |
| 9-08 | Impact Sports Academy | 5 | Chaos 9U | 10 |
| 9-08 | Sandlot Legends | 24 | Clutch Cyclones | 1 |
| 9-08 | Southern Closers 10U | 5 | Sandlot Legends | 10 |
| 9-08 | OVERDRIVE | 14 | Impact Sports Academy | 1 |
| 9-08 | OVERDRIVE | 17 | Southern Closers 10U | 4 |
| 9-09 | Chaos 9U | 10 | Clutch Cyclones | 7 |
| 9-09 | Southern Closers 10U | 11 | Impact Sports Academy | 9 |
| 9-09 | Sandlot Legends | 12 | Chaos 9U | 5 |
| 9-09 | OVERDRIVE | 13 | Southern Closers 10U | 5 |
| 9-09 | Sandlot Legends | 5 | OVERDRIVE | 12 |
| | | | | |
| --- | --- | --- | --- | --- |
| Regulators 10U | 4-0-0 | 0-0-0 | 1 | 1 |
| Enterprise Express 10u | 4-1-0 | 0-0-0 | 2 | 2 |
| American Thunder | 2-2-0 | 0-0-0 | 3 | 3 |
| Southern Closers | 2-2-0 | 0-0-0 | 4 | 4 |
| Freeport Bulldogs | 1-2-0 | 0-0-0 | 5 | 5 |
| Impact Sports Academy - Navy | 0-3-0 | 0-0-0 | 6 | 6 |
| South Walton Hawks 10U | 0-3-0 | 0-2-0 | 7 | 7 |
Games
| | | | | |
| --- | --- | --- | --- | --- |
| 9-08 | Southern Closers | 7 | Freeport Bulldogs | 13 |
| 9-08 | Regulators 10U | 20 | South Walton Hawks 10U | 2 |
| 9-08 | Southern Closers | 14 | Impact Sports Academy - Navy | 3 |
| 9-08 | Enterprise Express 10u | 8 | American Thunder | 4 |
| 9-08 | Regulators 10U | 7 | Impact Sports Academy - Navy | 2 |
| 9-08 | Enterprise Express 10u | 17 | Freeport Bulldogs | 3 |
| 9-08 | South Walton Hawks 10U | 4 | American Thunder | 24 |
| 9-09 | American Thunder | 7 | Impact Sports Academy - Navy | 4 |
| 9-09 | Southern Closers | 9 | Freeport Bulldogs | 7 |
| 9-09 | Enterprise Express 10u | 8 | South Walton Hawks 10U | 5 |
| 9-09 | Regulators 10U | 12 | Southern Closers | 9 |
| 9-09 | American Thunder | 2 | Enterprise Express 10u | 20 |
| 9-09 | Enterprise Express 10u | 4 | Regulators 10U | 13 |
| | | | | |
| --- | --- | --- | --- | --- |
| South Walton Hawks 11u | 4-0-0 | 0-0-0 | 1 | 1 |
| Chaos | 3-2-0 | 0-0-0 | 2 | 3 |
| SA Dash | 3-1-0 | 0-0-0 | 3 | 2 |
| Next Gen 2025 | 2-2-0 | 0-0-0 | 4 | 5 |
| Southern Thunder | 1-2-0 | 0-0-0 | 5 | 4 |
| Iron Sluggers | 0-3-0 | 0-0-0 | 6 | 6 |
| Hi-Def Canes | 0-3-0 | 0-0-0 | 7 | 7 |
Games
| | | | | |
| --- | --- | --- | --- | --- |
| 9-08 | Chaos | 13 | Next Gen 2025 | 4 |
| 9-08 | SA Dash | 7 | Southern Thunder | 2 |
| 9-08 | Chaos | 3 | South Walton Hawks 11u | 6 |
| 9-08 | SA Dash | 10 | Iron Sluggers | 7 |
| 9-08 | Hi-Def Canes | 4 | Next Gen 2025 | 9 |
| 9-08 | Southern Thunder | 10 | Iron Sluggers | 7 |
| 9-08 | South Walton Hawks 11u | 19 | Hi-Def Canes | 2 |
| 9-09 | Southern Thunder | 6 | Next Gen 2025 | 13 |
| 9-09 | Chaos | 15 | Iron Sluggers | 2 |
| 9-09 | SA Dash | 14 | Hi-Def Canes | 5 |
| 9-09 | South Walton Hawks 11u | 7 | Next Gen 2025 | 2 |
| 9-09 | Chaos | 8 | SA Dash | 6 |
| 9-09 | South Walton Hawks 11u | 10 | Chaos | 6 |
| | | | | |
| --- | --- | --- | --- | --- |
| Icon Elite 12U | 4-0-0 | 0-0-0 | 1 | 2 |
| Hitmen | 3-1-0 | 0-0-0 | 2 | 1 |
| Enterprise Express 13u | 1-2-0 | 0-0-0 | 3 | 3 |
| 850 Select | 1-2-0 | 0-0-0 | 4 | 4 |
| Troy Warriors 12u | 2-1-1 | 0-0-0 | 5 | 7 |
| Hi-Def Canes | 1-3-0 | 0-0-0 | 6 | 8 |
| Impact Sports Academy | 1-2-0 | 0-0-0 | 7 | 5 |
| Crusaders | 0-2-1 | 0-0-0 | 8 | 6 |
Games
| | | | | |
| --- | --- | --- | --- | --- |
| 9-08 | Crusaders | 7 | Troy Warriors 12u | 7 |
| 9-08 | Impact Sports Academy | 6 | Crusaders | 3 |
| 9-08 | Hitmen | 11 | Troy Warriors 12u | 2 |
| 9-08 | 850 Select | 10 | Hi-Def Canes | 4 |
| 9-08 | Enterprise Express 13u | 2 | Icon Elite 12U | 11 |
| 9-08 | Enterprise Express 13u | 15 | Impact Sports Academy | 1 |
| 9-08 | Hi-Def Canes | 1 | Icon Elite 12U | 9 |
| 9-08 | Hitmen | 11 | 850 Select | 1 |
| 9-09 | Icon Elite 12U | 15 | Enterprise Express 13u | 1 |
| 9-09 | Hitmen | 11 | 850 Select | 1 |
| 9-09 | Icon Elite 12U | 5 | Hitmen | 3 |
| 9-09 | Crusaders | 1 | Troy Warriors 12u | 17 |
| 9-09 | Impact Sports Academy | 5 | Hi-Def Canes | 7 |
| 9-09 | Troy Warriors 12u | 10 | Hi-Def Canes | 4 |
| | | | | |
| --- | --- | --- | --- | --- |
| Seed 1 | 0-0-0 | 0-0-0 | | |
| Winner Game 1 | 0-0-0 | 0-0-0 | | |
| Seed 3 | 0-0-0 | 0-0-0 | | |
| Seed 2 | 0-0-0 | 0-0-0 | | |
| Klutch Baseball | 2-0-0 | 0-0-0 | 1 | 1 |
| HR IMPACT 13U | 1-1-0 | 0-0-0 | 2 | 2 |
| Bama Blue Jays | 0-2-0 | 0-0-0 | 3 | 3 |
Games
| | | | | |
| --- | --- | --- | --- | --- |
| 9-08 | HR IMPACT 13U | 8 | Bama Blue Jays | 4 |
| 9-08 | Klutch Baseball | 10 | Bama Blue Jays | 4 |
| 9-08 | Klutch Baseball | 9 | HR IMPACT 13U | 6 |
| 9-08 | Seed 2 | - | Seed 3 | - |
| 9-08 | Seed 1 | - | Winner Game 1 | - |
Event Address: 1901 NEIL METCALF RD, ENTERPRISE, AL 36330

Map and Directions
Weather: