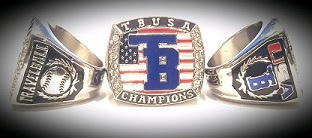 DUGOUT CLASSIC X
MERE SPORTS COMPLEX / MARIANNA, FL
September 22, 2018 through September 23, 2018
**2018 FALL BASEBALL SCHEDULE** (MARIANNA, FLORIDA)
ENTRY FEE: 7U-8U FREE, 9U-13U $325. REGISTER EARLY and SAVE $$$. LIMITED SLOTS AVAILABLE. REGISTER YOUR TEAM TODAY AND JUST PLAY!!! NEW SEASON PLAYERS AGE MOVES UP AUGUST 1, 2018.
**GAME TIMES CST**
NO STEEL CLEATS ON PITCHING MOUND (FIELD 1 AND 5)
**SATURDAY BRACKETS POSTED**
*SUNDAY BRACKETS WILL BE POSTED THURSDAY*
COACHES ONLY (1) TEAM COOLER ALLOWED IN PARK.
NO PERSONAL COOLERS ALLOWED IN PARK.
NO PETS ALLOWED IN PARK.
NO SKATEBOARDS/RAZORS/ETC. OF ANY TYPE ALLOWED IN THE PARK.
Tournament Entry Deadline: September 19 , 2018 at 6 pm
Pay online or make checks payable to TBUSA.
Saturday games will consist of pool play. Seeding will be based on Saturdays performance leading into Sundays Championship with single elimination play. Team trophies with individual awards for 1st and 2nd place teams in each age division.
7U
8U
9U
Sandlot Legends
9
Ashford, AL
Clutch Cyclones
9
Andalusia, AL
Impact Sports Academy
9
Defuniak Springs, FL
Tallahassee Heat
9
Tallahassee, FL
Powermill 9U
9
Tallahassee, FL
10U
Tallahassee Heat
10
Tallahassee, FL
10-u Team Florida
10
PANAMA CITY, FL
South Walton Hawks 10u
10
South Walton, FL
American Thunder
10
Dothan, AL
Regulators 10U
10
dothan, AL
11U
North Walton Scorpions
11
DEFUNIAK SPRINGS, FL
Southern Nationals
11
Mableton, GA
Next Gen 2025
11
Parts Unknown, FL
5 Star National Gowdy
11
Tifton, GA
South Walton Hawks 11u
11
South Walton, FL
NFE Bombers
11
Tallahassee, FL
Tallahassee Heat 11U
11
Tallahassee, FL
Wiregrass Cardinals 11U Frichter
11
Newville, AL
Line Drive 11U
11
Sylvester, GA
12U
Tallahassee Tomahawks
12
Tallahassee, FL
Tallahassee Heat 12U
12
Tallahassee, FL
5 Star National Buhler
12
Tifton, GA
Dirty South Bangers
12
port st joe, FL
13U
Klutch Baseball
13
Panhandle, FL
5 Star National Haynes Gold
13
Tifton, GA
ICON ELITE
13
Semmes, Al, AL
Panhandle Panthers
13
Marianna, FL
HR IMPACT 13U
13
Sant Rosa Beach, FL
Southern Rattlers
13
Marianna, FL
Bama Blue Jays
13
Enterprise, AL
14U
Southeast Elite WHITE
14
Abbeville, AL
Impact Sports Academy
14
Defuniak Springs, FL
Game On South 14U
14
Albany, GA
Yard Goats
14
Opp, AL
North Florida Pride
14
Crawfordville, FL
15U
16U
17U
18U

Print Brackets
9U
Clutch Cyclones
Impact Sports Academy
-vs-
09/22/2018 - 8:00 AM
FIELD 8 (LOWER FIELDS)
Powermill 9U
Impact Sports Academy
-vs-
09/22/2018 - 9:40 AM
FIELD 8 (LOWER FIELDS)
Tallahassee Heat
Clutch Cyclones
-vs-
09/22/2018 - 11:20 AM
FIELD 8 (LOWER FIELDS)
Powermill 9U
Sandlot Legends
-vs-
09/22/2018 - 1:00 PM
FIELD 8 (LOWER FIELDS)
Tallahassee Heat
Sandlot Legends
-vs-
09/22/2018 - 2:40 PM
FIELD 8 (LOWER FIELDS)
Impact Sports Academy
Clutch Cyclones
-vs-
09/23/2018 - 8:00 AM
FIELD 8 (GM1)
Tallahassee Heat
Sandlot Legends
-vs-
09/23/2018 - 9:40 AM
FIELD 8 (GM2)
Powermill 9U
Clutch Cyclones
-vs-
09/23/2018 - 11:20 AM
FIELD 8 (GM3)
Powermill 9U
Sandlot Legends
-vs-
09/23/2018 - 1:00 PM
FIELD 8 (CHAMPIONSHIP)
10U
10-u Team Florida
American Thunder
-vs-
09/22/2018 - 8:00 AM
FIELD 4
10-u Team Florida
South Walton Hawks 10u
-vs-
09/22/2018 - 9:40 AM
FIELD 4
Regulators 10U
American Thunder
-vs-
09/22/2018 - 11:20 AM
FIELD 4
Tallahassee Heat
South Walton Hawks 10u
-vs-
09/22/2018 - 1:00 PM
FIELD 4
Tallahassee Heat
Regulators 10U
-vs-
09/22/2018 - 2:40 PM
FIELD 4
American Thunder
Regulators 10U
-vs-
09/23/2018 - 8:00 AM
FIELD 4 (GM1)
Tallahassee Heat
10-u Team Florida
-vs-
09/23/2018 - 9:40 AM
FIELD 4 (GM2)
South Walton Hawks 10u
American Thunder
-vs-
09/23/2018 - 11:20 AM
FIELD 4 (GM3)
Tallahassee Heat
American Thunder
-vs-
09/23/2018 - 1:00 PM
FIELD 4 (CHAMPIONSHIP)
11U
5 Star National Gowdy
NFE Bombers
-vs-
09/22/2018 - 8:00 AM
FIELD 3
Tallahassee Heat 11U
Next Gen 2025
-vs-
09/22/2018 - 8:00 AM
FIELD 7 (LOWER FIELDS)
5 Star National Gowdy
Wiregrass Cardinals 11U Frichter
-vs-
09/22/2018 - 9:40 AM
FIELD 3
North Walton Scorpions
Next Gen 2025
-vs-
09/22/2018 - 9:40 AM
FIELD 7 (LOWER FIELDS)
NFE Bombers
South Walton Hawks 11u
-vs-
09/22/2018 - 11:20 AM
FIELD 3
Southern Nationals
Tallahassee Heat 11U
-vs-
09/22/2018 - 11:20 AM
FIELD 7 (LOWER FIELDS)
Line Drive 11U
Wiregrass Cardinals 11U Frichter
-vs-
09/22/2018 - 1:00 PM
FIELD 3
Southern Nationals
North Walton Scorpions
-vs-
09/22/2018 - 1:00 PM
FIELD 7 (LOWER FIELDS)
Line Drive 11U
South Walton Hawks 11u
-vs-
09/22/2018 - 2:40 PM
FIELD 3
Tallahassee Heat 11U
Southern Nationals
-vs-
09/23/2018 - 8:00 AM
FIELD 3 (GROUP A) GM1
South Walton Hawks 11u
Next Gen 2025
-vs-
09/23/2018 - 9:40 AM
FIELD 3 (GROUP A) GM2
5 Star National Gowdy
Tallahassee Heat 11U
-vs-
09/23/2018 - 11:20 AM
FIELD 3 (GROUP A) GM3
South Walton Hawks 11u
Tallahassee Heat 11U
-vs-
09/23/2018 - 1:00 PM
FIELD 3 (GROUP A) CHAMPIONSHIP
North Walton Scorpions
Wiregrass Cardinals 11U Frichter
-vs-
09/23/2018 - 8:00 AM
FIELD 7 (GROUP B) GM1
Line Drive 11U
NFE Bombers
-vs-
09/23/2018 - 9:40 AM
FIELD 7 (GROUP B) GM2
Line Drive 11U
North Walton Scorpions
-vs-
09/23/2018 - 11:20 AM
FIELD 7 (GROUP B) CHAMPIONSHIP
12U
Tallahassee Tomahawks
5 Star National Buhler
-vs-
09/22/2018 - 8:00 AM
FIELD 6 (LOWER FIELDS)
Tallahassee Heat 12U
5 Star National Buhler
-vs-
09/22/2018 - 9:40 AM
FIELD 6 (LOWER FIELDS)
Dirty South Bangers
Tallahassee Tomahawks
-vs-
09/22/2018 - 11:20 AM
FIELD 6 (LOWER FIELDS)
Tallahassee Heat 12U
Dirty South Bangers
-vs-
09/22/2018 - 1:00 PM
FIELD 6 (LOWER FIELDS)
Tallahassee Tomahawks
Tallahassee Heat 12U
-vs-
09/23/2018 - 8:00 AM
FIELD 6 (GM1)
5 Star National Buhler
Dirty South Bangers
-vs-
09/23/2018 - 9:40 AM
FIELD 6 (GM2)
5 Star National Buhler
Tallahassee Tomahawks
-vs-
09/23/2018 - 11:20 AM
FIELD 6 (CHAMPIONSHIP)
13U
Panhandle Panthers
5 Star National Haynes Gold
-vs-
09/22/2018 - 9:00 AM
FIELD 2
Klutch Baseball
5 Star National Haynes Gold
-vs-
09/22/2018 - 10:50 AM
FIELD 2
Bama Blue Jays
Panhandle Panthers
-vs-
09/22/2018 - 10:50 AM
FIELD 5
Southern Rattlers
Klutch Baseball
-vs-
09/22/2018 - 12:40 PM
FIELD 2
ICON ELITE
HR IMPACT 13U
-vs-
09/22/2018 - 12:40 PM
FIELD 5
Southern Rattlers
HR IMPACT 13U
-vs-
09/22/2018 - 2:30 PM
FIELD 2
ICON ELITE
Bama Blue Jays
-vs-
09/22/2018 - 2:30 PM
FIELD 5
Klutch Baseball
5 Star National Haynes Gold
-vs-
09/23/2018 - 8:00 AM
FIELD 2 (GM1)
Bama Blue Jays
Southern Rattlers
-vs-
09/23/2018 - 8:00 AM
FIELD 5 (GM2)
Panhandle Panthers
HR IMPACT 13U
-vs-
09/23/2018 - 9:50 AM
FIELD 2 (GM3)
5 Star National Haynes Gold
Southern Rattlers
-vs-
09/23/2018 - 9:50 AM
FIELD 5 (GM4)
ICON ELITE
HR IMPACT 13U
-vs-
09/23/2018 - 11:40 AM
FIELD 2 (GM5)
ICON ELITE
Southern Rattlers
-vs-
09/23/2018 - 1:30 PM
FIELD 2 (CHAMPIONSHIP)
14U
Yard Goats
Impact Sports Academy
-vs-
09/22/2018 - 8:00 AM
FIELD 1
Yard Goats
North Florida Pride
-vs-
09/22/2018 - 9:50 AM
FIELD 1
Impact Sports Academy
Game On South 14U
-vs-
09/22/2018 - 11:40 AM
FIELD 1
Southeast Elite WHITE
North Florida Pride
-vs-
09/22/2018 - 1:30 PM
FIELD 1
Game On South 14U
Southeast Elite WHITE
-vs-
09/22/2018 - 3:20 PM
FIELD 1
Impact Sports Academy
Game On South 14U
-vs-
09/23/2018 - 8:00 AM
FIELD 1 (GM1)
Southeast Elite WHITE
Yard Goats
-vs-
09/23/2018 - 9:50 AM
FIELD 1 (GM2)
North Florida Pride
Game On South 14U
-vs-
09/23/2018 - 11:40 AM
FIELD 1 (GM3)
Yard Goats
North Florida Pride
-vs-
09/23/2018 - 1:30 PM
FIELD 1 (CHAMPIONSHIP)
| | | | | |
| --- | --- | --- | --- | --- |
| Powermill 9U | 4-0-0 | 0-0-0 | 1 | 1 |
| Sandlot Legends | 2-2-0 | 0-0-0 | 2 | 3 |
| Tallahassee Heat | 1-2-0 | 0-0-0 | 3 | 2 |
| Clutch Cyclones | 1-3-0 | 0-0-0 | 4 | 5 |
| Impact Sports Academy | 1-2-0 | 0-0-0 | 5 | 4 |
Games
| | | | | |
| --- | --- | --- | --- | --- |
| 9-22 | Clutch Cyclones | 12 | Impact Sports Academy | 13 |
| 9-22 | Powermill 9U | 16 | Impact Sports Academy | 0 |
| 9-22 | Tallahassee Heat | 10 | Clutch Cyclones | 7 |
| 9-22 | Powermill 9U | 14 | Sandlot Legends | 2 |
| 9-22 | Tallahassee Heat | 8 | Sandlot Legends | 10 |
| 9-23 | Impact Sports Academy | 6 | Clutch Cyclones | 14 |
| 9-23 | Tallahassee Heat | 1 | Sandlot Legends | 9 |
| 9-23 | Powermill 9U | 8 | Clutch Cyclones | 1 |
| 9-23 | Powermill 9U | 12 | Sandlot Legends | 1 |
| | | | | |
| --- | --- | --- | --- | --- |
| Tallahassee Heat | 3-1-0 | 0-0-0 | 1 | 2 |
| American Thunder | 3-2-0 | 0-0-0 | 2 | 4 |
| South Walton Hawks 10u | 2-1-0 | 0-0-0 | 3 | 1 |
| 10-u Team Florida | 1-2-0 | 0-0-0 | 4 | 3 |
| Regulators 10U | 0-3-0 | 0-0-0 | 5 | 5 |
Games
| | | | | |
| --- | --- | --- | --- | --- |
| 9-22 | 10-u Team Florida | 11 | American Thunder | 7 |
| 9-22 | 10-u Team Florida | 2 | South Walton Hawks 10u | 6 |
| 9-22 | Regulators 10U | 5 | American Thunder | 12 |
| 9-22 | Tallahassee Heat | 4 | South Walton Hawks 10u | 5 |
| 9-22 | Tallahassee Heat | 11 | Regulators 10U | 3 |
| 9-23 | American Thunder | 10 | Regulators 10U | 6 |
| 9-23 | Tallahassee Heat | 10 | 10-u Team Florida | 1 |
| 9-23 | South Walton Hawks 10u | 5 | American Thunder | 7 |
| 9-23 | Tallahassee Heat | 11 | American Thunder | 5 |
| | | | | |
| --- | --- | --- | --- | --- |
| South Walton Hawks 11u | 4-0-0 | 0-0-0 | 1 | 2 |
| Tallahassee Heat 11U | 3-1-1 | 0-0-0 | 2 | 4 |
| 5 Star National Gowdy | 2-1-0 | 0-0-0 | 3 | 1 |
| Next Gen 2025 | 1-1-1 | 0-0-0 | 4 | 3 |
| Southern Nationals | 1-2-0 | 0-0-0 | 5 | 5 |
| Line Drive 11U | 3-1-0 | 0-0-0 | 6 | 6 |
| North Walton Scorpions | 1-3-0 | 0-0-0 | 7 | 7 |
| Wiregrass Cardinals 11U Frichter | 0-3-0 | 0-0-0 | 8 | 8 |
| NFE Bombers | 0-3-0 | 0-0-0 | 9 | 9 |
Games
| | | | | |
| --- | --- | --- | --- | --- |
| 9-22 | 5 Star National Gowdy | 14 | NFE Bombers | 2 |
| 9-22 | Tallahassee Heat 11U | 4 | Next Gen 2025 | 4 |
| 9-22 | 5 Star National Gowdy | 19 | Wiregrass Cardinals 11U Frichter | 3 |
| 9-22 | North Walton Scorpions | 1 | Next Gen 2025 | 7 |
| 9-22 | NFE Bombers | 2 | South Walton Hawks 11u | 17 |
| 9-22 | Southern Nationals | 8 | Tallahassee Heat 11U | 9 |
| 9-22 | Line Drive 11U | 11 | Wiregrass Cardinals 11U Frichter | 3 |
| 9-22 | Southern Nationals | 9 | North Walton Scorpions | 2 |
| 9-22 | Line Drive 11U | 5 | South Walton Hawks 11u | 9 |
| 9-23 | Tallahassee Heat 11U | 18 | Southern Nationals | 3 |
| 9-23 | South Walton Hawks 11u | 9 | Next Gen 2025 | 2 |
| 9-23 | 5 Star National Gowdy | 1 | Tallahassee Heat 11U | 10 |
| 9-23 | South Walton Hawks 11u | 4 | Tallahassee Heat 11U | 0 |
| 9-23 | North Walton Scorpions | 7 | Wiregrass Cardinals 11U Frichter | 3 |
| 9-23 | Line Drive 11U | 7 | NFE Bombers | 1 |
| 9-23 | Line Drive 11U | 15 | North Walton Scorpions | 0 |
| | | | | |
| --- | --- | --- | --- | --- |
| 5 Star National Buhler | 3-0-1 | 0-0-0 | 1 | 1 |
| Tallahassee Tomahawks | 2-1-1 | 0-0-0 | 2 | 2 |
| Tallahassee Heat 12U | 1-2-0 | 0-0-0 | 3 | 3 |
| Dirty South Bangers | 0-3-0 | 0-0-0 | 4 | 4 |
Games
| | | | | |
| --- | --- | --- | --- | --- |
| 9-22 | Tallahassee Tomahawks | 1 | 5 Star National Buhler | 1 |
| 9-22 | Tallahassee Heat 12U | 0 | 5 Star National Buhler | 17 |
| 9-22 | Dirty South Bangers | 0 | Tallahassee Tomahawks | 20 |
| 9-22 | Tallahassee Heat 12U | 14 | Dirty South Bangers | 4 |
| 9-23 | Tallahassee Tomahawks | 6 | Tallahassee Heat 12U | 1 |
| 9-23 | 5 Star National Buhler | 17 | Dirty South Bangers | 1 |
| 9-23 | 5 Star National Buhler | 9 | Tallahassee Tomahawks | 0 |
| | | | | |
| --- | --- | --- | --- | --- |
| ICON ELITE | 4-0-0 | 0-0-0 | 1 | 1 |
| Southern Rattlers | 2-2-1 | 0-0-0 | 2 | 6 |
| Klutch Baseball | 1-1-1 | 0-0-0 | 3 | 2 |
| Bama Blue Jays | 1-2-0 | 0-0-0 | 4 | 3 |
| HR IMPACT 13U | 2-2-0 | 0-0-0 | 5 | 5 |
| 5 Star National Haynes Gold | 1-3-0 | 0-0-0 | 6 | 7 |
| Panhandle Panthers | 1-2-0 | 0-0-0 | 7 | 4 |
Games
| | | | | |
| --- | --- | --- | --- | --- |
| 9-22 | Panhandle Panthers | 9 | 5 Star National Haynes Gold | 1 |
| 9-22 | Klutch Baseball | 8 | 5 Star National Haynes Gold | 3 |
| 9-22 | Bama Blue Jays | 10 | Panhandle Panthers | 0 |
| 9-22 | Southern Rattlers | 4 | Klutch Baseball | 4 |
| 9-22 | ICON ELITE | 8 | HR IMPACT 13U | 7 |
| 9-22 | Southern Rattlers | 11 | HR IMPACT 13U | 14 |
| 9-22 | ICON ELITE | 10 | Bama Blue Jays | 0 |
| 9-23 | Klutch Baseball | 7 | 5 Star National Haynes Gold | 10 |
| 9-23 | Bama Blue Jays | 1 | Southern Rattlers | 11 |
| 9-23 | Panhandle Panthers | 3 | HR IMPACT 13U | 13 |
| 9-23 | 5 Star National Haynes Gold | 4 | Southern Rattlers | 12 |
| 9-23 | ICON ELITE | 12 | HR IMPACT 13U | 2 |
| 9-23 | ICON ELITE | 8 | Southern Rattlers | 1 |
| | | | | |
| --- | --- | --- | --- | --- |
| Yard Goats | 3-1-0 | 0-0-0 | 1 | 3 |
| North Florida Pride | 3-1-0 | 0-0-0 | 2 | 1 |
| Southeast Elite WHITE | 1-2-0 | 0-0-0 | 3 | 2 |
| Game On South 14U | 1-3-0 | 0-0-0 | 4 | 5 |
| Impact Sports Academy | 1-2-0 | 0-0-0 | 5 | 4 |
Games
| | | | | |
| --- | --- | --- | --- | --- |
| 9-22 | Yard Goats | 14 | Impact Sports Academy | 7 |
| 9-22 | Yard Goats | 2 | North Florida Pride | 4 |
| 9-22 | Impact Sports Academy | 8 | Game On South 14U | 0 |
| 9-22 | Southeast Elite WHITE | 4 | North Florida Pride | 5 |
| 9-22 | Game On South 14U | 5 | Southeast Elite WHITE | 7 |
| 9-23 | Impact Sports Academy | 5 | Game On South 14U | 8 |
| 9-23 | Southeast Elite WHITE | 5 | Yard Goats | 8 |
| 9-23 | North Florida Pride | 10 | Game On South 14U | 9 |
| 9-23 | Yard Goats | 15 | North Florida Pride | 9 |
Event Address: 3625 CAVERNS RD, MARIANNA, FL 32447

Map and Directions
Weather: