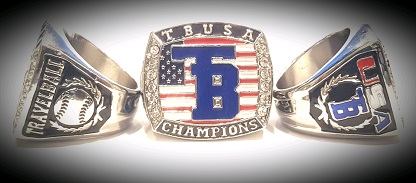 2020 GOLD GLOVE WORLD SERIES - SESSION I
SEMINOLE COUNTY SPORTS COMPLEX / DONALSONVILLE, GA
June 6, 2020 through June 7, 2020
**2020 SPRING BASEBALL SCHEDULE** (DONALSONVILLE, GA)
ENTRY FEE: 7U-8U FREE, 9U-13U $325. COME JOIN TBUSA. LIMITED SLOTS AVAILABLE DON'T WAIT AND MISS OUT REGISTER YOUR TEAM TODAY TO SAVE YOUR SPOT.
IMPORTANT UPDATE - THIS WILL BE A TWO DAY TOURNAMENT
Please note by playing in a TBUSA event teams, players, coaches, parents
and spectators do so on a volunteer basis. If you or any one associated
with your team is sick or has underlying health conditions please stay
home. Coach please relay this information to anyone associated with your
team that plans on attending the TBUSA event.

TBUSA will do our best to keep everyone safe.

TBUSA will be establishing some guidelines for tournament PLAY

TEAM GATE FEE $225 WILL BE ADDED TO TOURNAMENT ENTRY FEE. ALL FEES MUST BE
PAID PRIOR TO TEAMS FIRST GAME (NO EXCEPTIONS). THERE WILL BE DESIGNATED
TABLE AT THE ENTRANCE FOR ONE COACH OR TEAM MOM TO CHECK IN AND PAY.

ALL TBUSA STAFF AND UMPIRES WILL HAVE THEIR TEMPERATURES TAKEN EACH DAY
PRIOR TO PLAY

NO SPECTATORS OR PARENTS IN BLEACHERS THERE WILL BE DESIGNATED RED FLAGS
ALONG THE FENCE WHERE TENTS OR CHAIRS CAN BE SET UP FOR SPECTATORS.
PLEASE TRY TO STAY WITH YOUR FAMILY DURING THE TOURNAMENT.

STAY SAFE - 6FT APART SIGNS WILL BE POSTED THROUGHOUT THE PARK.

BLEACHERS WILL BE DESIGNATED ONLY FOR THE TEAM PLAYERS AND COACHES PLAYING AT THAT
DESIGNATED TIME ON THAT FIELD. NO OTHER TEAM MAY OCCUPY THAT BLEACHER UNTIL THE TEAM PLAYING HAS CLEARED THE AREA. COACHES LETS TRY TO KEEP HALF TEAM IN DUGOUT AND HALF IN THE BLEACHERS DURING EACH GAME.

NO CATCHER EQUIPMENT SHOULD BE SHARED.

NO COMMUNITY WATER COOLERS IN DUGOUT.

NO HANDSHAKES OR AWARD CEREMONIES AFTER GAMES.

EACH TEAM WILL PROVIDE 2 NEW GAME BALLS BEFORE EACH GAME WITH TEAMS NAME
OR INITIALS FOR IDENTIFICATION AND HAVE OTHERS AVAILABLE IF NECESSARY.
EACH TEAM WILL PLAY DEFENSE WITH THEIR TEAMS DESIGNATED BASEBALLS EACH
INNING.

I KNOW THIS IS ALOT BUT LETS TRY OUR BEST SO WE CAN STAY SAFE AND
CONTINUE TO PLAY.

THANK YOU FOR YOUR PATIENCE.


Jerry Strauss
Travel Ball USA
https://www.TBUSATournaments.com/
COACHES ONLY (1) TEAM COOLER ALLOWED IN PARK.
NO PERSONAL COOLERS ALLOWED IN PARK.
NO PETS ALLOWED IN PARK.

Tournament Entry Deadline: June 3, 2020 at 6 pm CST
Pay online or make checks payable to TBUSA.
Saturday games will consist of pool play. Seeding will be based on Saturdays performance leading into Sundays Championship with single elimination play. Team trophies with individual awards for 1st and 2nd place teams in each age division.
7U
South Walton Hawks
7
Santa Rosa Beach, FL
Pelicans
7
Panama City, FL
Scrappers
7
Dothan, AL
8U
Tallahassee Heat 8U
8
Tallahassee, FL
Crenshaw Patriots
8
LUVERNE, AL
Sandlot Legends 8u
8
Ashford, AL
Beachsox Baseball
8
Shalimar, FL
Dirtbags
8
Enterprise, AL
9U
Tallahassee Renegades
9
Tallahassee, FL
Molino Impact
9
Milton, FL
Southern Closers 9U
8
Headland, AL
Wiregrass Aces
9
Abbeville, AL
South Alabama Arrows
9
Andalusia, AL
South Alabama Rattlers
9
Rehobeth, AL
Avengers 9U
9
Enterprise, AL
Chaos 9u
9
Enterprise, AL
L A Owls
9
Slocomb, AL
10U
Chaos
10
Enterprise, AL
Tallahassee Renegades
10
Tallahassee, FL
Molino Impact
10
Cantonment, FL
Montgomery Brewers
10
Mathews, AL
Overdrive 10U
10
Rehobeth, AL
SOUTHEAST ALABAMA IRONMEN
10
Enterprise, AL
Headland Hawks
10
Headland, AL
Tri City Dream
10
Phenix City, AL
Powermill 10U
10
Tallahassee, FL
11U
Crush Baseball
11
Florida Panhandle, FL
NFE Bombers
11
Tallahassee, FL
Regulators
11
dothan, AL
Tallahassee Heat
11
Tallahassee, FL
NF Grit Black-Parnell
11
Freeport, FL
Chiefs
11
Blountstown, FL
Sandlot
11
Apalachicola, FL
Storm Baseball
11
Panama City, FL
Camp-84
11
Andalusia, AL
STEALTH
11
Deatsville, AL
Enterprise Express 11U
11
Enterprise, AL
NF Grit Grey-Jones
11
Freeport, FL
Home Plate chilidogs
11
Tifton, GA
Southern Closers
11
Dothan, AL
12U
High Voltage
12
Abbeville, AL
NFE Bombers
12
Tallahassee, FL
Tri County Lightning
12
Marianna, FL
Tallahassee Renegades
12
Tallahassee, FL
Auburn Cubs
12
Auburn, AL
Chaos
12
Enterprise, AL
WSA 12U RED
12
Dothan, AL
13U
Elite Gamers Christman
13
Forsyth, GA
Titans
13
Taylor, AL
East Coast Sox 13U 2020
13
Santa Rosa Beach, FL
Dothan Bandits
13
MIDLAND CITY, AL
Enterprise Express 13u
12
enterprise, AL
5 Star National Haynes Gold
13
Tifton, GA
14U
Wiregrass Cardinals 14U
14
Newville, AL
Bama Blue Jays 14U
14
Enterprise, AL
HR IMPACT 14U
14
Sant Rosa Beach, FL
Powermill 14U Harrison
14
Tallah, FL
East Coast Sox 14U 2020
14
Santa Rosa Beach, FL
Panhandle Trojans
14
Panama City, FL
15U
16U
17U
18U

Print Brackets
Brackets have not been set. Please check back closer to the event.
Please check back after the tournament begins to see the results.
Event Address: 808 GIP AVENUE, DONALSONVILLE, GA 39845

Map and Directions
Weather: