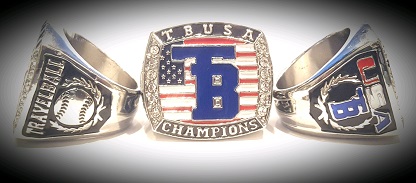 2020 TBUSA WORLD SERIES SEASON FINALE - PANAMA CITY BEACH, FL
FRANK BROWN SPORTS COMPLEX / PANAMA CITY BEACH, FL
August 29, 2020 through August 30, 2020
**2020 SPRING BASEBALL SCHEDULE** (PANAMA CITY BEACH, FL)
ENTRY FEE: 7U-8U FREE, 9U-13U $325. COME JOIN TBUSA. LIMITED SLOTS AVAILABLE DON'T WAIT AND MISS OUT REGISTER YOUR TEAM TODAY TO SAVE YOUR SPOT.
8U-12U WILL RESUME GAMES AT 8:00AM WITH ELIMINATION GAMES TO FOLLOW
13U-14U WILL RESUME GAMES AT 8:00AM - 13U-14U TEAMS WILL PLAY ONE POOL PLAY GAME THEN SEED FOR ELIMINATION PLAY
*WEATHER UPDATES WILL BE POSTED HERE*
*11:12 AM CST SUNDAY UPDATE*
8U-12U FIELDS UNDERWATER THEREFORE THESE AGE GROUPS HAVE BEEN CANCELLED
13U-14U HAS BEEN CANCELLED HAS NOT DRIED OUT AND IS TOO SLIPPERY

JERRY/TBUSA
*GAME TIMES CST*
LOCATIONS
8U-12U
FRANK BROWN PARK
16200 PANAMA CITY PKWY
PANAMA CITY BEACH, FL 32413
13U-14U
PCB SPORTS COMPLEX - TURF FIELD - SEE COMPLEX RULES
50 CHIP SEAL PKWY
PANAMA CITY BEACH, FL 32407
Complex Rules:
-NO metal spikes (turf shoes and molded rubber cleats are ok)
-No seeds or gum allowed
-No bikes, scooters or skateboards are allowed in park
*Full Concessions will be open*
Please note by playing in a TBUSA event teams, players, coaches, parents
and spectators do so on a volunteer basis. If you or any one associated
with your team is sick or has underlying health conditions please stay
home. Coach please relay this information to anyone associated with your
team that plans on attending the TBUSA event.

TBUSA will do our best to keep everyone safe.

TBUSA will be establishing some guidelines for tournament PLAY

TEAM GATE FEE $225 WILL BE ADDED TO TOURNAMENT ENTRY FEE. ALL FEES MUST BE
PAID PRIOR TO TEAMS FIRST GAME (NO EXCEPTIONS). THERE WILL BE DESIGNATED
TABLE AT THE ENTRANCE FOR ONE COACH OR TEAM MOM TO CHECK IN AND PAY.

ALL TBUSA STAFF AND UMPIRES WILL HAVE THEIR TEMPERATURES TAKEN EACH DAY
PRIOR TO PLAY

NO SPECTATORS OR PARENTS IN BLEACHERS THERE WILL BE DESIGNATED AREAS
ALONG THE FENCE WHERE TENTS OR CHAIRS CAN BE SET UP FOR SPECTATORS.
PLEASE TRY TO STAY WITH YOUR FAMILY DURING THE TOURNAMENT.

STAY SAFE - 6FT APART SIGNS WILL BE POSTED THROUGHOUT THE PARK.

BLEACHERS WILL BE DESIGNATED ONLY FOR THE TEAM PLAYERS AND COACHES PLAYING AT THAT DESIGNATED TIME ON THAT FIELD. NO OTHER TEAM MAY OCCUPY THAT BLEACHER UNTIL THE TEAM PLAYING HAS CLEARED THE AREA. COACHES LETS TRY TO KEEP HALF TEAM IN DUGOUT AND HALF IN THE BLEACHERS DURING EACH GAME.
NO CATCHER EQUIPMENT SHOULD BE SHARED.

NO COMMUNITY WATER COOLERS IN DUGOUT.

NO HANDSHAKES OR AWARD CEREMONIES AFTER GAMES.

EACH TEAM WILL PROVIDE 2 NEW GAME BALLS BEFORE EACH GAME WITH TEAMS NAME
OR INITIALS FOR IDENTIFICATION AND HAVE OTHERS AVAILABLE IF NECESSARY.
EACH TEAM WILL PLAY DEFENSE WITH THEIR TEAMS DESIGNATED BASEBALLS EACH
INNING.

I KNOW THIS IS ALOT BUT LETS TRY OUR BEST SO WE CAN STAY SAFE AND
CONTINUE TO PLAY.

THANK YOU FOR YOUR PATIENCE.


Jerry Strauss
Travel Ball USA
https://www.TBUSATournaments.com
COACHES ONLY (1) TEAM COOLER ALLOWED IN PARK.
NO PERSONAL COOLERS ALLOWED IN PARK.
NO PETS ALLOWED IN PARK.
Tournament Entry Deadline: August 26, 2020 at 6 pm CST
Pay online or make checks payable to TBUSA.
Saturday games will consist of pool play. Seeding will be based on Saturdays performance leading into Sundays Championship with single elimination play. Team trophies with individual awards for 1st and 2nd place teams in each age division.
7U
8U
Scrappers 8U
8
Dothan, AL
South Walton Hawks 7U
8
Santa Rosa Beach, FL
Crenshaw Patriots
8
LUVERNE, AL
Stingers
8
Mobile, AL
Florida Grind
8
Panama City, FL
Pelicans
8
Panama City, FL
JACKSON COUNTY ELITE
8
MARIANNA, FL
Avengers 8U
8
Enterprise, AL
9U
Hornets
9
Ashford, AL
LA Naturals
9
Mobile, AL
Avengers 9U
9
Enterprise, AL
South Alabama Rattlers
9
Rehobeth, AL
Dirtbags 9U
9
Enterprise, AL
9
Slocomb, AL
10U
Thomasville Braves
10
ochlocknee, GA
SOUTHEAST ALABAMA IRONMEN
10
Enterprise, AL
South Walton Hawks 10U
10
Panhandle, FL
Tallahassee Renegades
10
Tallahassee, FL
Southern Savage
10
Ozark, AL
NWF Baseball
10
Southport, FL
Montgomery Cubs
10
Prattville, AL
11U
South Walton Hawks
11
Santa Rosa Beach, FL
NF Grit Grey-Jones
11
Freeport, FL
Thomasville Braves
11
ochlocknee, GA
Chiefs
11
Blountstown, FL
Mud Dogs
11
Leesburg, GA
Sandlot
11
Apalachicola, FL
Florida Prospects Baseball
11
Panama City, FL
Storm Baseball
11
Panama City, FL
12U
Moki Farms
12
Fitzgerald, GA
Tri County Lightning
12
Marianna, FL
LandSharks
12
Navarre, FL
WFBA 12U
12
Cantonment, FL
Sandlot 12U
12
Panama City, FL
LA Naturals
12
Mobile, AL
Powermill 11u
11
Tallahassee, FL
Southern Tribe 12U
12
Valdosta, GA
13U
South Walton Hawks
12
South Walton, FL
Bill Bond Clutch
13
Pensacola, FL
Titans
13
Taylor, AL
Hustlers Baseball
13
Shorterville, AL
WSA RED 13U
13
Dothan, AL
PCB Marlins
13
Panama City Beach, FL
Bucks Baseball
13
DeFuniak Springs, FL
14U
Tallahassee Tomahawks
14
Tallahassee, FL
Panhandle Prospects
14
Destin, FL
Panhandle Trojans
14
Panama City, FL
Turn Two
14
Dothan, AL
BeachSox Baseball
14
Navarre, FL
NF Riptide
14
Panhandle, FL
15U
16U
17U
18U

Print Brackets
8U
South Walton Hawks 7U
Florida Grind
-vs-
08/29/2020 - 8:00 AM
FIELD 3
Scrappers 8U
Crenshaw Patriots
-vs-
08/29/2020 - 8:00 AM
FIELD 4
South Walton Hawks 7U
Avengers 8U
-vs-
08/29/2020 - 9:20 AM
FIELD 3
JACKSON COUNTY ELITE
Crenshaw Patriots
-vs-
08/29/2020 - 9:20 AM
FIELD 4
Pelicans
Florida Grind
-vs-
08/29/2020 - 8:00 AM
FIELD 3
Scrappers 8U
Stingers
-vs-
08/29/2020 - 8:00 AM
FIELD 4
Pelicans
Avengers 8U
-vs-
08/29/2020 - 9:10 AM
FIELD 3
JACKSON COUNTY ELITE
Stingers
-vs-
08/29/2020 - 9:10 AM
FIELD 4
Seed 6
Seed 7
-vs-
08/30/2020 - 10:20 AM
FIELD 4 (GROUP B) GM1
Seed 5
Seed 8
-vs-
08/30/2020 - 11:30 AM
FIELD 4 (GROUP B) GM2
Winner Game 1
Winner Game 2
-vs-
08/30/2020 - 12:40 PM
FIELD 4 (GROUP B) CHAMPIONSHIP
Seed 2
Seed 3
-vs-
08/30/2020 - 10:20 AM
FIELD 3 (GROUP A) GM1
Seed 1
Seed 4
-vs-
08/30/2020 - 11:30 AM
FIELD 3 (GROUP A) GM2
Winner Game 1
Winner Game 2
-vs-
08/30/2020 - 12:40 PM
FIELD 3 (GROUP A) CHAMPIONSHIP
9U
South Alabama Rattlers
Hornets
-vs-
08/29/2020 - 8:00 AM
FIELD 8
South Alabama Rattlers
Dirtbags 9U
-vs-
08/29/2020 - 9:40 AM
FIELD 8
Avengers 9U

-vs-
08/29/2020 - 8:00 AM
FIELD 8
LA Naturals
Hornets
-vs-
08/29/2020 - 9:10 AM
FIELD 1
Dirtbags 9U

-vs-
08/29/2020 - 9:10 AM
FIELD 8
LA Naturals
Avengers 9U
-vs-
08/29/2020 - 10:20 AM
FIELD 8
Seed 3
Seed 6
-vs-
08/30/2020 - 11:30 AM
FIELD 8 (GM1)
Seed 4
Seed 5
-vs-
08/30/2020 - 11:30 AM
FIELD 1 (GM2)
Seed 2
Winner Game 1
-vs-
08/30/2020 - 12:55 PM
FIELD 8 (GM3)
Seed 1
Winner Game 2
-vs-
08/30/2020 - 2:20 PM
FIELD 8 (GM4)
Winner Game 3
Winner Game 4
-vs-
08/30/2020 - 3:45 PM
FIELD 8 (CHAMPIONSHIP)
10U
NWF Baseball
Thomasville Braves
-vs-
08/29/2020 - 8:00 AM
FIELD 1
South Walton Hawks 10U
SOUTHEAST ALABAMA IRONMEN
-vs-
08/29/2020 - 8:00 AM
FIELD 2
NWF Baseball
Southern Savage
-vs-
08/29/2020 - 8:00 AM
FIELD 1
South Walton Hawks 10U
Thomasville Braves
-vs-
08/29/2020 - 8:00 AM
FIELD 2
Tallahassee Renegades
Montgomery Cubs
-vs-
08/29/2020 - 9:10 AM
FIELD 2
SOUTHEAST ALABAMA IRONMEN
Tallahassee Renegades
-vs-
08/29/2020 - 10:20 AM
FIELD 2
Montgomery Cubs
Southern Savage
-vs-
08/29/2020 - 10:20 AM
FIELD 1
Seed 3
Seed 6
-vs-
08/30/2020 - 11:30 AM
FIELD 2 (GM1)
Seed 4
Seed 5
-vs-
08/30/2020 - 12:55 PM
FIELD 1 (GM2)
Seed 2
Seed 7
-vs-
08/30/2020 - 12:55 PM
FIELD 2 (GM3)
Seed 1
Winner Game 2
-vs-
08/30/2020 - 2:20 PM
FIELD 1 (GM4)
Winner Game 1
Winner Game 3
-vs-
08/30/2020 - 2:20 PM
FIELD 2 (GM5)
Winner Game 4
Winner Game 5
-vs-
08/30/2020 - 3:45 PM
FIELD 1 (CHAMPIONSHIP)
11U
Florida Prospects Baseball
Thomasville Braves
-vs-
08/29/2020 - 8:00 AM
FIELD 6
NF Grit Grey-Jones
Storm Baseball
-vs-
08/29/2020 - 8:00 AM
FIELD 7
Florida Prospects Baseball
Mud Dogs
-vs-
08/29/2020 - 8:00 AM
FIELD 6
NF Grit Grey-Jones
Sandlot
-vs-
08/29/2020 - 8:00 AM
FIELD 7
Thomasville Braves
Sandlot
-vs-
08/29/2020 - 9:25 AM
FIELD 6
South Walton Hawks
Storm Baseball
-vs-
08/29/2020 - 9:25 AM
FIELD 7
South Walton Hawks
Mud Dogs
-vs-
08/29/2020 - 10:50 AM
FIELD 7
Seed 6
Seed 7
-vs-
08/30/2020 - 12:15 PM
FIELD 7 (GROUP B) GM1
Seed 5
Winner Game 1
-vs-
08/30/2020 - 1:40 PM
FIELD 7 (GROUP B) CHAMPIONSHIP
Seed 2
Seed 3
-vs-
08/30/2020 - 12:15 PM
FIELD 6 (GROUP A) GM1
Seed 1
Seed 4
-vs-
08/30/2020 - 1:40 PM
FIELD 6 (GROUP A) GM2
Winner Game 1
Winner Game 2
-vs-
08/30/2020 - 3:05 PM
FIELD 6 (GROUP A) CHAMPIONSHIP
12U
Sandlot 12U
Tri County Lightning
-vs-
08/29/2020 - 8:00 AM
FIELD 5
WFBA 12U
Powermill 11u
-vs-
08/29/2020 - 8:00 AM
FIELD 9
Sandlot 12U
LA Naturals
-vs-
08/29/2020 - 8:00 AM
FIELD 5
WFBA 12U
Moki Farms
-vs-
08/29/2020 - 8:00 AM
FIELD 9
LandSharks
Powermill 11u
-vs-
08/29/2020 - 9:25 AM
FIELD 5
Southern Tribe 12U
Tri County Lightning
-vs-
08/29/2020 - 9:25 AM
FIELD 9
LandSharks
Moki Farms
-vs-
08/29/2020 - 10:50 AM
FIELD 5
LA Naturals
Southern Tribe 12U
-vs-
08/29/2020 - 10:50 AM
FIELD 9
Seed 6
Seed 7
-vs-
08/30/2020 - 12:15 PM
FIELD 9 (GROUP B) GM1
Seed 5
Seed 8
-vs-
08/30/2020 - 1:40 PM
FIELD 9 (GROUP B) GM2
Winner Game 1
Winner Game 2
-vs-
08/30/2020 - 3:05 PM
FIELD 9 (GROUP B) CHAMPIONSHIP
Seed 2
Seed 3
-vs-
08/30/2020 - 12:15 PM
FIELD 5 (GROUP A) GM1
Seed 1
Seed 4
-vs-
08/30/2020 - 1:40 PM
FIELD 5 (GROUP A) GM2
Winner Game 1
Winner Game 2
-vs-
08/30/2020 - 3:05 PM
FIELD 5 (GROUP A) CHAMPIONSHIP
13U
PCB Marlins
South Walton Hawks
-vs-
08/29/2020 - 8:00 AM
FIELD 5
WSA RED 13U
Bucks Baseball
-vs-
08/29/2020 - 8:00 AM
FIELD 6
Hustlers Baseball
Bill Bond Clutch
-vs-
08/29/2020 - 9:25 AM
FIELD 5
WSA RED 13U
Titans
-vs-
08/29/2020 - 9:25 AM
FIELD 6
Seed 3
Seed 6
-vs-
08/30/2020 - 10:50 AM
FIELD 5 (GM1)
Seed 2
Seed 7
-vs-
08/30/2020 - 10:50 AM
FIELD 6 (GM2)
Seed 4
Seed 5
-vs-
08/30/2020 - 12:15 PM
FIELD 5 (GM3)
Winner Game 1
Winner Game 2
-vs-
08/30/2020 - 12:15 PM
FIELD 6 (GM4)
Seed 1
Winner Game 3
-vs-
08/30/2020 - 1:40 PM
FIELD 5 (GM5)
Winner Game 4
Winner Game 5
-vs-
08/30/2020 - 3:05 PM
FIELD 5 (CHAMPIONSHIP)
14U
Turn Two
Panhandle Trojans
-vs-
08/29/2020 - 8:00 AM
FIELD 3
Turn Two
Tallahassee Tomahawks
-vs-
08/29/2020 - 9:10 AM
FIELD 3
BeachSox Baseball
NF Riptide
-vs-
08/29/2020 - 10:20 AM
FIELD 3
Seed 4
Seed 5
-vs-
08/30/2020 - 11:50 AM
FIELD 3 (GM1)
Seed 2
Seed 3
-vs-
08/30/2020 - 1:15 PM
FIELD 3 (GM2)
Seed 1
Winner Game 1
-vs-
08/30/2020 - 2:40 PM
FIELD 3 (GM3)
Winner Game 2
Winner Game 3
-vs-
08/30/2020 - 4:05 PM
FIELD 3 (GM4) CHAMPIONSHIP
| | | | | |
| --- | --- | --- | --- | --- |
| Winner Game 1 | 0-0-0 | 0-0-0 | | |
| Seed 8 | 0-0-0 | 0-0-0 | | |
| Seed 5 | 0-0-0 | 0-0-0 | | |
| Winner Game 2 | 0-0-0 | 0-0-0 | | |
| Seed 2 | 0-0-0 | 0-0-0 | | |
| Seed 4 | 0-0-0 | 0-0-0 | | |
| Seed 1 | 0-0-0 | 0-0-0 | | |
| Seed 3 | 0-0-0 | 0-0-0 | | |
| Seed 7 | 0-0-0 | 0-0-0 | | |
| Seed 6 | 0-0-0 | 0-0-0 | | |
| Crenshaw Patriots | 2-0-0 | 0-0-0 | | |
| Scrappers 8U | 0-2-0 | 27-6-2 | | |
| Florida Grind | 2-0-0 | 0-0-0 | | |
| Avengers 8U | 1-0-0 | 0-0-0 | | |
| JACKSON COUNTY ELITE | 0-1-0 | 0-0-0 | | |
| Stingers | 1-0-0 | 0-0-0 | | |
| Pelicans | 0-1-0 | 11-10-0 | | |
| South Walton Hawks 7U | 0-2-0 | 0-0-0 | | |
Games
| | | | | |
| --- | --- | --- | --- | --- |
| 8-29 | South Walton Hawks 7U | 7 | Florida Grind | 11 |
| 8-29 | Scrappers 8U | 0 | Crenshaw Patriots | 8 |
| 8-29 | South Walton Hawks 7U | 6 | Avengers 8U | 16 |
| 8-29 | JACKSON COUNTY ELITE | 2 | Crenshaw Patriots | 14 |
| 8-29 | Pelicans | 3 | Florida Grind | 16 |
| 8-29 | Scrappers 8U | 0 | Stingers | 10 |
| 8-29 | Pelicans | - | Avengers 8U | - |
| 8-29 | JACKSON COUNTY ELITE | - | Stingers | - |
| 8-30 | Seed 6 | - | Seed 7 | - |
| 8-30 | Seed 5 | - | Seed 8 | - |
| 8-30 | Winner Game 1 | - | Winner Game 2 | - |
| 8-30 | Seed 2 | - | Seed 3 | - |
| 8-30 | Seed 1 | - | Seed 4 | - |
| 8-30 | Winner Game 1 | - | Winner Game 2 | - |
| | | | | |
| --- | --- | --- | --- | --- |
| Winner Game 1 | 0-0-0 | 0-0-0 | | |
| Seed 2 | 0-0-0 | 0-0-0 | | |
| Seed 5 | 0-0-0 | 0-0-0 | | |
| Seed 1 | 0-0-0 | 0-0-0 | | |
| Winner Game 2 | 0-0-0 | 0-0-0 | | |
| Winner Game 4 | 0-0-0 | 0-0-0 | | |
| Winner Game 3 | 0-0-0 | 0-0-0 | | |
| Seed 4 | 0-0-0 | 0-0-0 | | |
| Seed 6 | 0-0-0 | 0-0-0 | | |
| Dirtbags 9U | 0-1-0 | 8-26-2 | | |
| Hornets | 0-0-1 | 0-0-0 | | |
| Avengers 9U | 0-0-0 | 0-0-0 | | |
| | 0-0-0 | 0-0-0 | | |
| Seed 3 | 0-0-0 | 0-0-0 | | |
| LA Naturals | 0-0-0 | 0-0-0 | | |
| South Alabama Rattlers | 1-0-1 | 0-0-0 | | |
Games
| | | | | |
| --- | --- | --- | --- | --- |
| 8-29 | South Alabama Rattlers | 5 | Hornets | 5 |
| 8-29 | South Alabama Rattlers | 6 | Dirtbags 9U | 0 |
| 8-29 | Avengers 9U | - | | - |
| 8-29 | LA Naturals | - | Hornets | - |
| 8-29 | Dirtbags 9U | - | | - |
| 8-29 | LA Naturals | - | Avengers 9U | - |
| 8-30 | Seed 3 | - | Seed 6 | - |
| 8-30 | Seed 4 | - | Seed 5 | - |
| 8-30 | Seed 2 | - | Winner Game 1 | - |
| 8-30 | Seed 1 | - | Winner Game 2 | - |
| 8-30 | Winner Game 3 | - | Winner Game 4 | - |
| | | | | |
| --- | --- | --- | --- | --- |
| Seed 1 | 0-0-0 | 0-0-0 | | |
| Seed 7 | 0-0-0 | 0-0-0 | | |
| Seed 2 | 0-0-0 | 0-0-0 | | |
| Winner Game 2 | 0-0-0 | 0-0-0 | | |
| Winner Game 1 | 0-0-0 | 0-0-0 | | |
| Winner Game 5 | 0-0-0 | 0-0-0 | | |
| Winner Game 4 | 0-0-0 | 0-0-0 | | |
| Winner Game 3 | 0-0-0 | 0-0-0 | | |
| Seed 5 | 0-0-0 | 0-0-0 | | |
| Seed 4 | 0-0-0 | 0-0-0 | | |
| SOUTHEAST ALABAMA IRONMEN | 0-1-0 | 0-0-0 | | |
| South Walton Hawks 10U | 1-0-0 | 0-0-0 | | |
| Thomasville Braves | 0-1-0 | 1-2-0 | | |
| Southern Savage | 0-0-0 | 0-0-0 | | |
| Tallahassee Renegades | 0-0-0 | 0-0-0 | | |
| Seed 6 | 0-0-0 | 0-0-0 | | |
| Seed 3 | 0-0-0 | 0-0-0 | | |
| Montgomery Cubs | 0-0-0 | 0-0-0 | | |
| NWF Baseball | 1-0-0 | 0-0-0 | | |
Games
| | | | | |
| --- | --- | --- | --- | --- |
| 8-29 | NWF Baseball | 19 | Thomasville Braves | 0 |
| 8-29 | South Walton Hawks 10U | 5 | SOUTHEAST ALABAMA IRONMEN | 3 |
| 8-29 | NWF Baseball | - | Southern Savage | - |
| 8-29 | South Walton Hawks 10U | - | Thomasville Braves | - |
| 8-29 | Tallahassee Renegades | - | Montgomery Cubs | - |
| 8-29 | SOUTHEAST ALABAMA IRONMEN | - | Tallahassee Renegades | - |
| 8-29 | Montgomery Cubs | - | Southern Savage | - |
| 8-30 | Seed 3 | - | Seed 6 | - |
| 8-30 | Seed 4 | - | Seed 5 | - |
| 8-30 | Seed 2 | - | Seed 7 | - |
| 8-30 | Seed 1 | - | Winner Game 2 | - |
| 8-30 | Winner Game 1 | - | Winner Game 3 | - |
| 8-30 | Winner Game 4 | - | Winner Game 5 | - |
| | | | | |
| --- | --- | --- | --- | --- |
| Seed 2 | 0-0-0 | 0-0-0 | | |
| Winner Game 1 | 0-0-0 | 0-0-0 | | |
| Seed 5 | 0-0-0 | 0-0-0 | | |
| Seed 3 | 0-0-0 | 0-0-0 | | |
| Seed 1 | 0-0-0 | 0-0-0 | | |
| Winner Game 2 | 0-0-0 | 0-0-0 | | |
| Seed 4 | 0-0-0 | 0-0-0 | | |
| Seed 7 | 0-0-0 | 0-0-0 | | |
| Seed 6 | 0-0-0 | 0-0-0 | | |
| NF Grit Grey-Jones | 0-1-0 | 0-0-0 | | |
| Thomasville Braves | 0-1-0 | 2-6-0 | | |
| Storm Baseball | 1-0-0 | 0-0-0 | | |
| Mud Dogs | 0-0-0 | 0-0-0 | | |
| South Walton Hawks | 0-0-0 | 0-0-0 | | |
| Sandlot | 0-0-0 | 0-0-0 | | |
| Florida Prospects Baseball | 1-0-0 | 0-0-0 | | |
Games
| | | | | |
| --- | --- | --- | --- | --- |
| 8-29 | Florida Prospects Baseball | 9 | Thomasville Braves | 2 |
| 8-29 | NF Grit Grey-Jones | 5 | Storm Baseball | 6 |
| 8-29 | Florida Prospects Baseball | - | Mud Dogs | - |
| 8-29 | NF Grit Grey-Jones | - | Sandlot | - |
| 8-29 | Thomasville Braves | - | Sandlot | - |
| 8-29 | South Walton Hawks | - | Storm Baseball | - |
| 8-29 | South Walton Hawks | - | Mud Dogs | - |
| 8-30 | Seed 6 | - | Seed 7 | - |
| 8-30 | Seed 5 | - | Winner Game 1 | - |
| 8-30 | Seed 2 | - | Seed 3 | - |
| 8-30 | Seed 1 | - | Seed 4 | - |
| 8-30 | Winner Game 1 | - | Winner Game 2 | - |
| | | | | |
| --- | --- | --- | --- | --- |
| Winner Game 1 | 0-0-0 | 0-0-0 | | |
| Seed 8 | 0-0-0 | 0-0-0 | | |
| Seed 5 | 0-0-0 | 0-0-0 | | |
| Winner Game 2 | 0-0-0 | 0-0-0 | | |
| Seed 2 | 0-0-0 | 0-0-0 | | |
| Seed 4 | 0-0-0 | 0-0-0 | | |
| Seed 1 | 0-0-0 | 0-0-0 | | |
| Seed 3 | 0-0-0 | 0-0-0 | | |
| Seed 7 | 0-0-0 | 0-0-0 | | |
| Seed 6 | 0-0-0 | 0-0-0 | | |
| Powermill 11u | 0-1-0 | 0-0-0 | | |
| WFBA 12U | 1-0-0 | 9-0-0 | | |
| Tri County Lightning | 1-0-0 | 0-0-0 | | |
| LA Naturals | 0-0-0 | 0-0-0 | | |
| Moki Farms | 0-0-0 | 0-0-0 | | |
| Southern Tribe 12U | 0-0-0 | 0-0-0 | | |
| LandSharks | 0-0-0 | 0-0-0 | | |
| Sandlot 12U | 0-1-0 | 0-0-0 | | |
Games
| | | | | |
| --- | --- | --- | --- | --- |
| 8-29 | Sandlot 12U | 2 | Tri County Lightning | 3 |
| 8-29 | WFBA 12U | 14 | Powermill 11u | 3 |
| 8-29 | Sandlot 12U | - | LA Naturals | - |
| 8-29 | WFBA 12U | - | Moki Farms | - |
| 8-29 | LandSharks | - | Powermill 11u | - |
| 8-29 | Southern Tribe 12U | - | Tri County Lightning | - |
| 8-29 | LandSharks | - | Moki Farms | - |
| 8-29 | LA Naturals | - | Southern Tribe 12U | - |
| 8-30 | Seed 6 | - | Seed 7 | - |
| 8-30 | Seed 5 | - | Seed 8 | - |
| 8-30 | Winner Game 1 | - | Winner Game 2 | - |
| 8-30 | Seed 2 | - | Seed 3 | - |
| 8-30 | Seed 1 | - | Seed 4 | - |
| 8-30 | Winner Game 1 | - | Winner Game 2 | - |
| | | | | |
| --- | --- | --- | --- | --- |
| Winner Game 1 | 0-0-0 | 0-0-0 | | |
| Seed 5 | 0-0-0 | 0-0-0 | | |
| Seed 4 | 0-0-0 | 0-0-0 | | |
| Winner Game 2 | 0-0-0 | 0-0-0 | | |
| Seed 1 | 0-0-0 | 0-0-0 | | |
| Winner Game 5 | 0-0-0 | 0-0-0 | | |
| Winner Game 4 | 0-0-0 | 0-0-0 | | |
| Winner Game 3 | 0-0-0 | 0-0-0 | | |
| Seed 7 | 0-0-0 | 0-0-0 | | |
| Seed 2 | 0-0-0 | 0-0-0 | | |
| Bucks Baseball | 0-0-0 | 0-0-0 | | |
| WSA RED 13U | 0-0-0 | 10-13-0 | | |
| South Walton Hawks | 0-0-0 | 0-0-0 | | |
| Hustlers Baseball | 0-0-0 | 0-0-0 | | |
| Bill Bond Clutch | 0-0-0 | 0-0-0 | | |
| Seed 6 | 0-0-0 | 0-0-0 | | |
| Seed 3 | 0-0-0 | 0-0-0 | | |
| Titans | 0-0-0 | 0-0-0 | | |
| PCB Marlins | 0-0-0 | 0-0-0 | | |
Games
| | | | | |
| --- | --- | --- | --- | --- |
| 8-29 | PCB Marlins | - | South Walton Hawks | - |
| 8-29 | WSA RED 13U | - | Bucks Baseball | - |
| 8-29 | Hustlers Baseball | - | Bill Bond Clutch | - |
| 8-29 | WSA RED 13U | - | Titans | - |
| 8-30 | Seed 3 | - | Seed 6 | - |
| 8-30 | Seed 2 | - | Seed 7 | - |
| 8-30 | Seed 4 | - | Seed 5 | - |
| 8-30 | Winner Game 1 | - | Winner Game 2 | - |
| 8-30 | Seed 1 | - | Winner Game 3 | - |
| 8-30 | Winner Game 4 | - | Winner Game 5 | - |
| | | | | |
| --- | --- | --- | --- | --- |
| Seed 1 | 0-0-0 | 0-0-0 | | |
| Seed 3 | 0-0-0 | 0-0-0 | | |
| Winner Game 1 | 0-0-0 | 0-0-0 | | |
| Winner Game 2 | 0-0-0 | 0-0-0 | | |
| Winner Game 3 | 0-0-0 | 0-0-0 | | |
| Seed 2 | 0-0-0 | 0-0-0 | | |
| Seed 5 | 0-0-0 | 0-0-0 | | |
| Tallahassee Tomahawks | 0-0-0 | 4-0-0 | | |
| Panhandle Trojans | 1-0-0 | 0-0-0 | | |
| BeachSox Baseball | 0-0-0 | 0-0-0 | | |
| NF Riptide | 0-0-0 | 0-0-0 | | |
| Seed 4 | 0-0-0 | 0-0-0 | | |
| Turn Two | 0-1-0 | 6-6-0 | | |
Games
| | | | | |
| --- | --- | --- | --- | --- |
| 8-29 | Turn Two | 0 | Panhandle Trojans | 2 |
| 8-29 | Turn Two | - | Tallahassee Tomahawks | - |
| 8-29 | BeachSox Baseball | - | NF Riptide | - |
| 8-30 | Seed 4 | - | Seed 5 | - |
| 8-30 | Seed 2 | - | Seed 3 | - |
| 8-30 | Seed 1 | - | Winner Game 1 | - |
| 8-30 | Winner Game 2 | - | Winner Game 3 | - |
Event Address: 16200 PANAMA CITY BEACH PKWY, PANAMA CITY BEACH, FL 32412

Map and Directions
Weather:
PANAMA CITY BEACH WEATHER