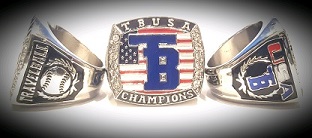 TBUSA OPENING DAY BLAST - MARIANNA, FL
MERE SPORTS COMPLEX / MARIANNA, FL
February 13, 2021 through February 14, 2021
**2021 SPRING BASEBALL SCHEDULE** (MARIANNA, FLORIDA)
ENTRY FEE: 7U-8U FREE, 9U-14U $325. COME JOIN TBUSA. LIMITED SLOTS AVAILABLE DON'T WAIT AND MISS OUT REGISTER YOUR TEAM TODAY TO SAVE YOUR SPOT.
TOURNAMENT HAS BEEN CANCELLED
DUE TO FIELD CONDITIONS ADDITIONAL RAIN TODAY AND ALL WEEKEND
WE APOLOGIZE - HOPE TO SEE YOU SOON
COACHES ONLY (1) TEAM COOLER ALLOWED IN PARK.
NO PERSONAL COOLERS ALLOWED IN PARK.
NO PETS ALLOWED IN PARK.
Tournament Entry Deadline: February 10, 2021 at 6 pm CST
Pay online or make checks payable to TBUSA.
Saturday games will consist of pool play. Seeding will be based on Saturdays performance leading into Sundays Championship with single elimination play. Team trophies with individual awards for 1st and 2nd place teams in each age division.
7U
8U
Scrappers 8U
8
Dothan, AL
FLORIDA GRIND 8u
8
Lynn Haven, FL
Traveling Eagles
8
Niceville, FL
Dirtbags 8u
8
Enterprise, AL
Tallahassee Heat
8
TALLAHASSEE, FL
Ozark Express
8
Ozark, AL
9U
10U
Hornets
10
Ashford, AL
Tallahassee Renegades
10
Tallahassee, FL
South Alabama Rattlers
10
Rehobeth, AL
11U
EAST COAST SOX FL 11U
11
Niceville, FL
Tallahassee Renegades
11
Tallahassee, FL
Traveling Eagles
11
Niceville, FL
Overdrive
11
Rehobeth, AL
12U
Sandlot Legends 12U
12
Ashford, AL
Trojans 12u
12
Troy, AL
PC Ballers
12
Panama City Beach, FL
Sandlot
12
Apalachicola, FL
Wave Baseball 12U
12
Gulf Breeze, FL
Miken Magic 12U
12
Albany, GA
EAST COAST SOX FL 12U
12
Niceville, FL
Pipeline Prime- Black
12
Pensacola, FL
PCB Braves
12
Panama City Beach, FL
13U
5 Star National Martin
13
Tifton, GA
EAST COAST SOX FL 13U
13
Niceville, FL
Traveling Eagles Gray
13
Niceville, FL
Pipeline Prime
13
Pensacola, FL
14U
PCB Marlins
14
Panama City Beach, FL
EAST COAST SOX FL 14U
14
Niceville, FL
15U
16U
17U
18U

Print Brackets
8U
Tallahassee Heat
Scrappers 8U
-vs-
02/13/2021 - 9:00 AM
FIELD 7
FLORIDA GRIND 8u
Dirtbags 8u
-vs-
02/13/2021 - 9:00 AM
FIELD 8
Scrappers 8U
Ozark Express
-vs-
02/13/2021 - 10:20 AM
FIELD 7
Traveling Eagles
Dirtbags 8u
-vs-
02/13/2021 - 10:20 AM
FIELD 8
FLORIDA GRIND 8u
Ozark Express
-vs-
02/13/2021 - 11:40 AM
FIELD 7
Traveling Eagles
Tallahassee Heat
-vs-
02/13/2021 - 11:40 AM
FIELD 8
Seed 4
Seed 5
-vs-
02/14/2021 - 9:00 AM
FIELD 7 (GM1)
Seed 3
Seed 6
-vs-
02/14/2021 - 9:00 AM
FIELD 8 (GM2)
Seed 1
Winner Game 1
-vs-
02/14/2021 - 10:20 AM
FIELD 7 (GM3)
Seed 2
Winner Game 2
-vs-
02/14/2021 - 10:20 AM
FIELD 8 (GM4)
Winner Game 3
Winner Game 4
-vs-
02/14/2021 - 11:40 AM
FIELD 7 (CHAMPIONSHIP)
10U
Hornets
South Alabama Rattlers
-vs-
02/13/2021 - 9:00 AM
FIELD 4
Hornets
Tallahassee Renegades
-vs-
02/13/2021 - 10:40 AM
FIELD 4
Tallahassee Renegades
South Alabama Rattlers
-vs-
02/13/2021 - 12:20 PM
FIELD 4
Seed 2
Seed 3
-vs-
02/13/2021 - 2:00 PM
FIELD 4 (GM1)
Seed 1
Winner Game 1
-vs-
02/13/2021 - 3:40 PM
FIELD 4 (CHAMPIONSHIP)
11U
Tallahassee Renegades
EAST COAST SOX FL 11U
-vs-
02/13/2021 - 9:00 AM
FIELD 6
Traveling Eagles
Tallahassee Renegades
-vs-
02/13/2021 - 10:40 AM
FIELD 6
EAST COAST SOX FL 11U
Overdrive
-vs-
02/13/2021 - 12:20 PM
FIELD 6
Traveling Eagles
Overdrive
-vs-
02/13/2021 - 2:00 PM
FIELD 6
Seed 2
Seed 3
-vs-
02/14/2021 - 9:00 AM
FIELD 6 (GM1)
Seed 1
Seed 4
-vs-
02/14/2021 - 10:40 AM
FIELD 6 (GM2)
Winner Game 1
Winner Game 2
-vs-
02/14/2021 - 12:20 PM
FIELD 6 (CHAMPIONSHIP)
12U
PC Ballers
Miken Magic 12U
-vs-
02/13/2021 - 9:00 AM
FIELD 3
PCB Braves
Sandlot Legends 12U
-vs-
02/13/2021 - 9:00 AM
FIELD 5
Wave Baseball 12U
Miken Magic 12U
-vs-
02/13/2021 - 10:40 AM
FIELD 3
EAST COAST SOX FL 12U
Sandlot Legends 12U
-vs-
02/13/2021 - 10:40 AM
FIELD 5
Pipeline Prime- Black
PC Ballers
-vs-
02/13/2021 - 12:20 PM
FIELD 3
Sandlot
PCB Braves
-vs-
02/13/2021 - 12:20 PM
FIELD 5
Wave Baseball 12U
Pipeline Prime- Black
-vs-
02/13/2021 - 2:00 PM
FIELD 3
EAST COAST SOX FL 12U
Sandlot
-vs-
02/13/2021 - 2:00 PM
FIELD 5
Seed 6
Seed 7
-vs-
02/14/2021 - 9:00 AM
FIELD 5 (GROUP B) GM1
Seed 5
Seed 8
-vs-
02/14/2021 - 10:40 AM
FIELD 5 (GROUP B) GM2
Winner Game 1
Winner Game 2
-vs-
02/14/2021 - 12:20 PM
FIELD 5 (GROUP B) CHAMPIONSHIP
Seed 2
Seed 3
-vs-
02/14/2021 - 9:00 AM
FIELD 3 (GROUP A) GM1
Seed 1
Seed 4
-vs-
02/14/2021 - 10:40 AM
FIELD 3 (GROUP A) GM2
Winner Game 1
Winner Game 2
-vs-
02/14/2021 - 12:20 PM
FIELD 3 (GROUP A) CHAMPIONSHIP
13U
EAST COAST SOX FL 13U
Traveling Eagles Gray
-vs-
02/13/2021 - 9:00 AM
FIELD 2
Traveling Eagles Gray
5 Star National Martin
-vs-
02/13/2021 - 10:40 AM
FIELD 2
Pipeline Prime
EAST COAST SOX FL 13U
-vs-
02/13/2021 - 12:20 PM
FIELD 2
Pipeline Prime
5 Star National Martin
-vs-
02/13/2021 - 2:00 PM
FIELD 2
Seed 2
Seed 3
-vs-
02/14/2021 - 9:00 AM
FIELD 2 (GM1)
Seed 1
Seed 4
-vs-
02/14/2021 - 10:40 AM
FIELD 2 (GM2)
Winner Game 1
Winner Game 2
-vs-
02/14/2021 - 12:20 PM
FIELD 2 (CHAMPIONSHIP)
14U
PCB Marlins
EAST COAST SOX FL 14U
-vs-
02/13/2021 - 9:00 AM
FIELD 1
PCB Marlins
EAST COAST SOX FL 14U
-vs-
02/13/2021 - 10:40 AM
FIELD 1
Seed 1
Seed 2
-vs-
02/13/2021 - 1:00 PM
FIELD 1 (CHAMPIONSHIP)
| | | | | |
| --- | --- | --- | --- | --- |
| Winner Game 1 | 0-0-0 | 0-0-0 | | |
| Seed 1 | 0-0-0 | 0-0-0 | | |
| Seed 6 | 0-0-0 | 0-0-0 | | |
| Seed 2 | 0-0-0 | 0-0-0 | | |
| Winner Game 2 | 0-0-0 | 0-0-0 | | |
| Winner Game 4 | 0-0-0 | 0-0-0 | | |
| Winner Game 3 | 0-0-0 | 0-0-0 | | |
| Seed 3 | 0-0-0 | 0-0-0 | | |
| Seed 5 | 0-0-0 | 0-0-0 | | |
| FLORIDA GRIND 8u | 0-0-0 | 9-13-0 | | |
| Scrappers 8U | 0-0-0 | 27-6-2 | | |
| Dirtbags 8u | 0-0-0 | 22-25-0 | | |
| Ozark Express | 0-0-0 | 9-51-0 | | |
| Seed 4 | 0-0-0 | 0-0-0 | | |
| Traveling Eagles | 0-0-0 | 0-3-0 | | |
| Tallahassee Heat | 0-0-0 | 18-5-0 | | |
Games
| | | | | |
| --- | --- | --- | --- | --- |
| 2-13 | Tallahassee Heat | - | Scrappers 8U | - |
| 2-13 | FLORIDA GRIND 8u | - | Dirtbags 8u | - |
| 2-13 | Scrappers 8U | - | Ozark Express | - |
| 2-13 | Traveling Eagles | - | Dirtbags 8u | - |
| 2-13 | FLORIDA GRIND 8u | - | Ozark Express | - |
| 2-13 | Traveling Eagles | - | Tallahassee Heat | - |
| 2-14 | Seed 4 | - | Seed 5 | - |
| 2-14 | Seed 3 | - | Seed 6 | - |
| 2-14 | Seed 1 | - | Winner Game 1 | - |
| 2-14 | Seed 2 | - | Winner Game 2 | - |
| 2-14 | Winner Game 3 | - | Winner Game 4 | - |
| | | | | |
| --- | --- | --- | --- | --- |
| Seed 1 | 0-0-0 | 0-0-0 | | |
| Winner Game 1 | 0-0-0 | 0-0-0 | | |
| Seed 3 | 0-0-0 | 0-0-0 | | |
| Seed 2 | 0-0-0 | 0-0-0 | | |
| South Alabama Rattlers | 0-0-0 | 13-16-0 | | |
| Tallahassee Renegades | 0-0-0 | 11-4-1 | | |
| Hornets | 0-0-0 | 35-14-0 | | |
Games
| | | | | |
| --- | --- | --- | --- | --- |
| 2-13 | Hornets | - | South Alabama Rattlers | - |
| 2-13 | Hornets | - | Tallahassee Renegades | - |
| 2-13 | Tallahassee Renegades | - | South Alabama Rattlers | - |
| 2-13 | Seed 2 | - | Seed 3 | - |
| 2-13 | Seed 1 | - | Winner Game 1 | - |
| | | | | |
| --- | --- | --- | --- | --- |
| Seed 1 | 0-0-0 | 0-0-0 | | |
| Seed 4 | 0-0-0 | 0-0-0 | | |
| Winner Game 1 | 0-0-0 | 0-0-0 | | |
| Winner Game 2 | 0-0-0 | 0-0-0 | | |
| Seed 3 | 0-0-0 | 0-0-0 | | |
| Seed 2 | 0-0-0 | 0-0-0 | | |
| EAST COAST SOX FL 11U | 0-0-0 | 0-6-0 | | |
| Traveling Eagles | 0-0-0 | 2-8-0 | | |
| Overdrive | 0-0-0 | 18-14-1 | | |
| Tallahassee Renegades | 0-0-0 | 12-8-1 | | |
Games
| | | | | |
| --- | --- | --- | --- | --- |
| 2-13 | Tallahassee Renegades | - | EAST COAST SOX FL 11U | - |
| 2-13 | Traveling Eagles | - | Tallahassee Renegades | - |
| 2-13 | EAST COAST SOX FL 11U | - | Overdrive | - |
| 2-13 | Traveling Eagles | - | Overdrive | - |
| 2-14 | Seed 2 | - | Seed 3 | - |
| 2-14 | Seed 1 | - | Seed 4 | - |
| 2-14 | Winner Game 1 | - | Winner Game 2 | - |
| | | | | |
| --- | --- | --- | --- | --- |
| Winner Game 1 | 0-0-0 | 0-0-0 | | |
| Seed 8 | 0-0-0 | 0-0-0 | | |
| Seed 5 | 0-0-0 | 0-0-0 | | |
| Winner Game 2 | 0-0-0 | 0-0-0 | | |
| Seed 2 | 0-0-0 | 0-0-0 | | |
| Seed 4 | 0-0-0 | 0-0-0 | | |
| Seed 1 | 0-0-0 | 0-0-0 | | |
| Seed 3 | 0-0-0 | 0-0-0 | | |
| Seed 7 | 0-0-0 | 0-0-0 | | |
| Seed 6 | 0-0-0 | 0-0-0 | | |
| Sandlot Legends 12U | 0-0-0 | 0-0-0 | | |
| PCB Braves | 0-0-0 | 6-10-1 | | |
| Miken Magic 12U | 0-0-0 | 9-6-0 | | |
| Wave Baseball 12U | 0-0-0 | 2-4-0 | | |
| EAST COAST SOX FL 12U | 0-0-0 | 0-0-0 | | |
| Sandlot | 0-0-0 | 14-11-2 | | |
| Pipeline Prime- Black | 0-0-0 | 0-2-1 | | |
| PC Ballers | 0-0-0 | 2-13-1 | | |
Games
| | | | | |
| --- | --- | --- | --- | --- |
| 2-13 | PC Ballers | - | Miken Magic 12U | - |
| 2-13 | PCB Braves | - | Sandlot Legends 12U | - |
| 2-13 | Wave Baseball 12U | - | Miken Magic 12U | - |
| 2-13 | EAST COAST SOX FL 12U | - | Sandlot Legends 12U | - |
| 2-13 | Pipeline Prime- Black | - | PC Ballers | - |
| 2-13 | Sandlot | - | PCB Braves | - |
| 2-13 | Wave Baseball 12U | - | Pipeline Prime- Black | - |
| 2-13 | EAST COAST SOX FL 12U | - | Sandlot | - |
| 2-14 | Seed 6 | - | Seed 7 | - |
| 2-14 | Seed 5 | - | Seed 8 | - |
| 2-14 | Winner Game 1 | - | Winner Game 2 | - |
| 2-14 | Seed 2 | - | Seed 3 | - |
| 2-14 | Seed 1 | - | Seed 4 | - |
| 2-14 | Winner Game 1 | - | Winner Game 2 | - |
| | | | | |
| --- | --- | --- | --- | --- |
| Seed 1 | 0-0-0 | 0-0-0 | | |
| Seed 4 | 0-0-0 | 0-0-0 | | |
| Winner Game 1 | 0-0-0 | 0-0-0 | | |
| Winner Game 2 | 0-0-0 | 0-0-0 | | |
| Seed 3 | 0-0-0 | 0-0-0 | | |
| Seed 2 | 0-0-0 | 0-0-0 | | |
| Traveling Eagles Gray | 0-0-0 | 13-6-1 | | |
| 5 Star National Martin | 0-0-0 | 12-9-0 | | |
| Pipeline Prime | 0-0-0 | 0-0-0 | | |
| EAST COAST SOX FL 13U | 0-0-0 | 2-4-0 | | |
Games
| | | | | |
| --- | --- | --- | --- | --- |
| 2-13 | EAST COAST SOX FL 13U | - | Traveling Eagles Gray | - |
| 2-13 | Traveling Eagles Gray | - | 5 Star National Martin | - |
| 2-13 | Pipeline Prime | - | EAST COAST SOX FL 13U | - |
| 2-13 | Pipeline Prime | - | 5 Star National Martin | - |
| 2-14 | Seed 2 | - | Seed 3 | - |
| 2-14 | Seed 1 | - | Seed 4 | - |
| 2-14 | Winner Game 1 | - | Winner Game 2 | - |
| | | | | |
| --- | --- | --- | --- | --- |
| Seed 2 | 0-0-0 | 0-0-0 | | |
| Seed 1 | 0-0-0 | 0-0-0 | | |
| EAST COAST SOX FL 14U | 0-0-0 | 5-3-0 | | |
| PCB Marlins | 0-0-0 | 0-2-1 | | |
Games
| | | | | |
| --- | --- | --- | --- | --- |
| 2-13 | PCB Marlins | - | EAST COAST SOX FL 14U | - |
| 2-13 | PCB Marlins | - | EAST COAST SOX FL 14U | - |
| 2-13 | Seed 1 | - | Seed 2 | - |
Event Address: 3625 CAVERNS RD, MARIANNA, FL 32446

Map and Directions
Weather:
MARIANNA WEATHER