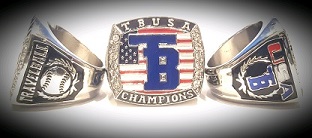 TBUSA OPENING DAY BLAST - MARIANNA, FL
MERE SPORTS COMPLEX / MARIANNA, FL
February 13, 2021 through February 14, 2021
**2021 SPRING BASEBALL SCHEDULE** (MARIANNA, FLORIDA)
ENTRY FEE: 7U-8U FREE, 9U-14U $325. COME JOIN TBUSA. LIMITED SLOTS AVAILABLE DON'T WAIT AND MISS OUT REGISTER YOUR TEAM TODAY TO SAVE YOUR SPOT.
7U
Traveling Eagles Gray
7
Niceville, FL
8U
Scrappers 8U
8
Dothan, AL
FLORIDA GRIND 8u
8
Lynn Haven, FL
Traveling Eagles
8
Niceville, FL
Tallahassee Heat 8U
8
TALLAHASSEE, FL
Ozark Express
8
Ozark, AL
9U
Tallahassee Renegades
9
Tallahassee, FL
10U
Hornets
10
Ashford, AL
Tallahassee Renegades
10
Tallahassee, FL
11U
EAST COAST SOX FL 11U
11
Niceville, FL
Tallahassee Renegades
11
Tallahassee, FL
Traveling Eagles
11
Niceville, FL
Overdrive
11
Rehobeth, AL
12U
Powermill
12
Tallahassee, FL
Tallahassee Bombers
12
Tallahassee, FL
Sandlot
12
Apalachicola, FL
Wave Baseball 12U
12
Gulf Breeze, FL
EAST COAST SOX FL 12U
12
Niceville, FL
Beach Sox 12u
12
Destin, FL
Sandlot Legends
11
Ashford, AL
Pipeline Prime
12
Pensacola, FL
PCB Braves
12
Panama City Beach, FL
13U
Ball Hogz 13U
13
Madison, FL
EAST COAST SOX FL 13U
13
Niceville, FL
Pipeline Prime
13
Pensacola, FL
14U
PCB Marlins
14
Panama City Beach, FL
EAST COAST SOX FL 14U
14
Niceville, FL
15U
16U
17U
18U

Print Brackets
Brackets have not been set. Please check back closer to the event.
Please check back after the tournament begins to see the results.
Event Address: 3625 CAVERNS RD, MARIANNA, FL 32446
Weather: