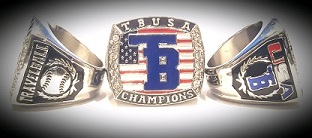 TBUSA BIG STICK SMASH - DOTHAN, AL
JAMES OATES SPORTS COMPLEX / DOTHAN, AL
April 10, 2021 through April 11, 2021
**2021 SPRING BASEBALL SCHEDULE** (DOTHAN, ALABAMA)
ENTRY FEE: 7U-8U FREE, 9U-15U $325. COME JOIN TBUSA. LIMITED SLOTS AVAILABLE DON'T WAIT AND MISS OUT REGISTER YOUR TEAM TODAY TO SAVE YOUR SPOT.
TEAMS LISTED HAVE CONFIRMED PLAYING SUNDAY
TOURNAMENT ENTRY FEE WILL BE $275
BRACKETS POSTED
IMPORTANT
4:30PM CST
City Park director and maintenance just walked the fields and said no way they can be ready for Sunday play

Sunday is Cancelled

I apologize but out of my control
Jerry Strauss
Travel Ball USA
ANY WEATHER/SCHEDULE UPDATES WILL BE POSTED HERE
WE ARE WATCHING THE WEATHER AND WILL MAKE A DECISION ON FRIDAY
BRACKETS WILL BE POSTED BY MIDNIGHT WEDNESDAY
*LOCATIONS*
JAMES OATES BASEBALL/SOFTBALL COMPLEX - 300 TAYLOR RD., DOTHAN, AL 36303
MIRACLE FIELD - 501 RECREATION RD., DOTHAN, AL 36303
8U/9U/10U - JAMES OATES SOFTBALL COMPLEX
11U/12U - JAMES OATES BASEBALL COMPLEX
13U - MIRACLE COMPLEX
COACHES ONLY (1) TEAM COOLER ALLOWED IN PARK.
NO PERSONAL COOLERS ALLOWED IN PARK.
NO PETS ALLOWED IN PARK.
Tournament Entry Deadline: April 7, 2021 at 6 pm CST
Pay online or make checks payable to TBUSA.
Saturday games will consist of pool play. Seeding will be based on Saturdays performance leading into Sundays Championship with single elimination play. Team trophies with individual awards for 1st and 2nd place teams in each age division.
7U
8U
8U South GA Mariners, Inc.-Culpepper
8
Leesburg, GA
Ozark Express
8
Ozark, AL
Dirtbags 8u
8
Enterprise, AL
LA Sliders
8
Skipperville, AL
Tallahassee Heat
8
TALLAHASSEE, FL
9U
Gulf Coast Crush
9
Panama City, FL
Dirtbags 9U
9
Enterprise, AL
Sandlot Legends
9
Ashford, AL
Dothan Dingers 9U
9
Dothan, AL
Wiregrass Bolts
9
Wiregrass Bolts Dothan Al., AL
Tallahassee Heat-Maroon
9
Tallahassee, FL
Wiregrass Wolverines
9
Dothan, AL
10U
Klutch Brand
10
Destin, FL
Diamond Athletics 10U
10
Enterprise, AL
East Coast Sox
10
Pace, FL
South Alabama Rattlers
10
Rehobeth, AL
Hornets
10
Ashford, AL
Avengers 10u
10
Enterprise, AL
11U
Overdrive
11
Rehobeth, AL
Tallahassee Heat
11
Tallahassee, FL
South Walton Hawks 12u
11
Destin, FL
The Southern Closers
11
Dothan, AL
NWF Baseball
11
Southport, FL
12U
Regulators 12U
12
DOTHAN, AL
DKSA ELITE 12U
12
Thomasville, GA
Florida Prospects Baseball
12
Panama City, FL
Southen Closers
12
Dothan, AL
Tallahassee Heat
12
Tallahassee, FL
American Thunder
12
Dothan, AL
13U
WSA RED 13U
13
Dothan, AL
DKSA ELITE 13U
13
Thomasville, GA
North Florida Grit
13
Freeport, FL
NF Warhawks
13
Crawfordville, FL
Tri County Lightning
13
Marianna, FL
Grind 13U Thomas
13
Panama city, FL
Diamond Athletics - Chaos
13
Enterprise, AL
14U
15U
16U
17U
18U

Print Brackets
8U
LA Sliders
Ozark Express
-vs-
04/11/2021 - 8:00 AM
FIELD 1
LA Sliders
Tallahassee Heat
-vs-
04/11/2021 - 9:00 AM
FIELD 1
Ozark Express
8U South GA Mariners, Inc.-Culpepper
-vs-
04/11/2021 - 10:00 AM
FIELD 1
Dirtbags 8u
Tallahassee Heat
-vs-
04/11/2021 - 11:00 AM
FIELD 1
Dirtbags 8u
8U South GA Mariners, Inc.-Culpepper
-vs-
04/11/2021 - 12:00 PM
FIELD 1
Seed 4
Seed 5
-vs-
04/11/2021 - 1:00 PM
FIELD 1 (GM1)
Seed 2
Seed 3
-vs-
04/11/2021 - 2:00 PM
FIELD 1 (GM2)
Seed 1
Winner Game 1
-vs-
04/11/2021 - 3:00 PM
FIELD 1 (GM3)
Winner Game 2
Winner Game 3
-vs-
04/11/2021 - 4:00 PM
FIELD 1 (CHAMPIONSHIP)
9U
Wiregrass Wolverines
Sandlot Legends
-vs-
04/11/2021 - 8:00 AM
FIELD 2
Dothan Dingers 9U
Wiregrass Bolts
-vs-
04/11/2021 - 8:00 AM
FIELD 3
Gulf Coast Crush
Dirtbags 9U
-vs-
04/11/2021 - 8:00 AM
FIELD 4
Sandlot Legends
Tallahassee Heat-Maroon
-vs-
04/11/2021 - 9:30 AM
FIELD 2
Dirtbags 9U
Wiregrass Bolts
-vs-
04/11/2021 - 9:30 AM
FIELD 3
Gulf Coast Crush
Dothan Dingers 9U
-vs-
04/11/2021 - 9:30 AM
FIELD 4
Wiregrass Wolverines
Tallahassee Heat-Maroon
-vs-
04/11/2021 - 11:00 AM
FIELD 2
Seed 2
Seed 7
-vs-
04/11/2021 - 12:30 PM
FIELD 2 (GM1)
Seed 3
Seed 6
-vs-
04/11/2021 - 12:30 PM
FIELD 3 (GM2)
Seed 4
Seed 5
-vs-
04/11/2021 - 12:30 PM
FIELD 4 (GM3)
Winner Game 1
Winner Game 2
-vs-
04/11/2021 - 2:00 PM
FIELD 3 (GM4)
Seed 1
Winner Game 3
-vs-
04/11/2021 - 2:00 PM
FIELD 4 (GM5)
Winner Game 4
Winner Game 5
-vs-
04/11/2021 - 3:30 PM
FIELD 4 (CHAMPIONSHIP)
10U
South Alabama Rattlers
Avengers 10u
-vs-
04/11/2021 - 8:00 AM
FIELD 5
Diamond Athletics 10U
Hornets
-vs-
04/11/2021 - 8:00 AM
FIELD 6
East Coast Sox
South Alabama Rattlers
-vs-
04/11/2021 - 9:30 AM
FIELD 5
Klutch Brand
Hornets
-vs-
04/11/2021 - 9:30 AM
FIELD 6
Avengers 10u
East Coast Sox
-vs-
04/11/2021 - 11:00 AM
FIELD 5
Klutch Brand
Diamond Athletics 10U
-vs-
04/11/2021 - 11:00 AM
FIELD 6
Seed 4
Seed 5
-vs-
04/11/2021 - 12:30 PM
FIELD 5 (GM1)
Seed 3
Seed 6
-vs-
04/11/2021 - 12:30 PM
FIELD 6 (GM2)
Seed 1
Winner Game 1
-vs-
04/11/2021 - 2:00 PM
FIELD 5 (GM3)
Seed 2
Winner Game 2
-vs-
04/11/2021 - 2:00 PM
FIELD 6 (GM4)
Winner Game 4
Winner Game 5
-vs-
04/11/2021 - 3:30 PM
FIELD 5 (CHAMPIONSHIP)
11U
The Southern Closers
Tallahassee Heat
-vs-
04/11/2021 - 8:00 AM
FIELD 2
Overdrive
South Walton Hawks 12u
-vs-
04/11/2021 - 8:00 AM
FIELD 3
Overdrive
Tallahassee Heat
-vs-
04/11/2021 - 9:30 AM
FIELD 2
South Walton Hawks 12u
NWF Baseball
-vs-
04/11/2021 - 9:30 AM
FIELD 3
The Southern Closers
NWF Baseball
-vs-
04/11/2021 - 11:00 AM
FIELD 3
Seed 4
Seed 5
-vs-
04/11/2021 - 12:30 PM
FIELD 2 (GM1)
Seed 2
Seed 3
-vs-
04/11/2021 - 12:30 PM
FIELD 3 (GM2)
Seed 1
Winner Game 1
-vs-
04/11/2021 - 2:00 PM
FIELD 2 (GM3)
Winner Game 2
Winner Game 3
-vs-
04/11/2021 - 3:30 PM
FIELD 2 (CHAMPIONSHIP)
12U
Florida Prospects Baseball
Southen Closers
-vs-
04/11/2021 - 8:00 AM
FIELD 4
Regulators 12U
DKSA ELITE 12U
-vs-
04/11/2021 - 8:00 AM
FIELD 5
Florida Prospects Baseball
American Thunder
-vs-
04/11/2021 - 9:30 AM
FIELD 4
Regulators 12U
Tallahassee Heat
-vs-
04/11/2021 - 9:30 AM
FIELD 5
American Thunder
DKSA ELITE 12U
-vs-
04/11/2021 - 11:00 AM
FIELD 4
Southen Closers
Tallahassee Heat
-vs-
04/11/2021 - 11:00 AM
FIELD 5
Seed 4
Seed 5
-vs-
04/11/2021 - 12:30 PM
FIELD 4 (GM1)
Seed 3
Seed 6
-vs-
04/11/2021 - 12:30 PM
FIELD 5 (GM2)
Seed 1
Winner Game 1
-vs-
04/11/2021 - 2:00 PM
FIELD 4 (GM3)
Seed 2
Winner Game 2
-vs-
04/11/2021 - 2:00 PM
FIELD 5 (GM4)
Winner Game 3
Winner Game 4
-vs-
04/11/2021 - 3:30 PM
FIELD 4 (CHAMPIONSHIP)
13U
WSA RED 13U
Grind 13U Thomas
-vs-
04/11/2021 - 8:00 AM
HARDY
Tri County Lightning
Diamond Athletics - Chaos
-vs-
04/11/2021 - 8:00 AM
BREWTON
WSA RED 13U
North Florida Grit
-vs-
04/11/2021 - 9:25 AM
HARDY
NF Warhawks
Diamond Athletics - Chaos
-vs-
04/11/2021 - 9:25 AM
BREWTON
DKSA ELITE 13U
Grind 13U Thomas
-vs-
04/11/2021 - 10:50 AM
HARDY
Tri County Lightning
NF Warhawks
-vs-
04/11/2021 - 10:50 AM
BREWTON
North Florida Grit
DKSA ELITE 13U
-vs-
04/11/2021 - 12:15 PM
HARDY
Seed 2
Seed 3
-vs-
04/11/2021 - 1:40 PM
HARDY (GROUP A) GM1
Seed 1
Seed 4
-vs-
04/11/2021 - 3:05 PM
HARDY (GROUP A) GM2
Winner Game 1
Winner Game 2
-vs-
04/11/2021 - 4:30 PM
HARDY (CHAMPIONSHIP)
Seed 6
Seed 7
-vs-
04/11/2021 - 1:40 PM
BREWTON (GROUP B) GM1
Seed 5
Winner Game 1
-vs-
04/11/2021 - 3:20 PM
BREWTON (CHAMPIONSHIP)
| | | | | |
| --- | --- | --- | --- | --- |
| Seed 1 | 0-0-0 | 0-0-0 | | |
| Seed 3 | 0-0-0 | 0-0-0 | | |
| Winner Game 1 | 0-0-0 | 0-0-0 | | |
| Winner Game 2 | 0-0-0 | 0-0-0 | | |
| Winner Game 3 | 0-0-0 | 0-0-0 | | |
| Seed 2 | 0-0-0 | 0-0-0 | | |
| Seed 5 | 0-0-0 | 0-0-0 | | |
| Tallahassee Heat | 0-0-0 | 18-5-0 | | |
| Ozark Express | 0-0-0 | 9-51-0 | | |
| 8U South GA Mariners, Inc.-Culpepper | 0-0-0 | 6-6-0 | | |
| Dirtbags 8u | 0-0-0 | 22-25-0 | | |
| Seed 4 | 0-0-0 | 0-0-0 | | |
| LA Sliders | 0-0-0 | 26-15-0 | | |
Games
| | | | | |
| --- | --- | --- | --- | --- |
| 4-11 | LA Sliders | - | Ozark Express | - |
| 4-11 | LA Sliders | - | Tallahassee Heat | - |
| 4-11 | Ozark Express | - | 8U South GA Mariners, Inc.-Culpepper | - |
| 4-11 | Dirtbags 8u | - | Tallahassee Heat | - |
| 4-11 | Dirtbags 8u | - | 8U South GA Mariners, Inc.-Culpepper | - |
| 4-11 | Seed 4 | - | Seed 5 | - |
| 4-11 | Seed 2 | - | Seed 3 | - |
| 4-11 | Seed 1 | - | Winner Game 1 | - |
| 4-11 | Winner Game 2 | - | Winner Game 3 | - |
| | | | | |
| --- | --- | --- | --- | --- |
| Winner Game 1 | 0-0-0 | 0-0-0 | | |
| Seed 5 | 0-0-0 | 0-0-0 | | |
| Seed 4 | 0-0-0 | 0-0-0 | | |
| Winner Game 2 | 0-0-0 | 0-0-0 | | |
| Seed 1 | 0-0-0 | 0-0-0 | | |
| Winner Game 5 | 0-0-0 | 0-0-0 | | |
| Winner Game 4 | 0-0-0 | 0-0-0 | | |
| Winner Game 3 | 0-0-0 | 0-0-0 | | |
| Seed 6 | 0-0-0 | 0-0-0 | | |
| Seed 3 | 0-0-0 | 0-0-0 | | |
| Wiregrass Bolts | 0-0-0 | 2-16-1 | | |
| Dothan Dingers 9U | 0-0-0 | 12-17-1 | | |
| Sandlot Legends | 0-0-0 | 17-6-1 | | |
| Gulf Coast Crush | 0-0-0 | 16-21-0 | | |
| Dirtbags 9U | 0-0-0 | 8-26-2 | | |
| Seed 7 | 0-0-0 | 0-0-0 | | |
| Seed 2 | 0-0-0 | 0-0-0 | | |
| Tallahassee Heat-Maroon | 0-0-0 | 3-4-0 | | |
| Wiregrass Wolverines | 0-0-0 | 20-16-2 | | |
Games
| | | | | |
| --- | --- | --- | --- | --- |
| 4-11 | Wiregrass Wolverines | - | Sandlot Legends | - |
| 4-11 | Dothan Dingers 9U | - | Wiregrass Bolts | - |
| 4-11 | Gulf Coast Crush | - | Dirtbags 9U | - |
| 4-11 | Sandlot Legends | - | Tallahassee Heat-Maroon | - |
| 4-11 | Dirtbags 9U | - | Wiregrass Bolts | - |
| 4-11 | Gulf Coast Crush | - | Dothan Dingers 9U | - |
| 4-11 | Wiregrass Wolverines | - | Tallahassee Heat-Maroon | - |
| 4-11 | Seed 2 | - | Seed 7 | - |
| 4-11 | Seed 3 | - | Seed 6 | - |
| 4-11 | Seed 4 | - | Seed 5 | - |
| 4-11 | Winner Game 1 | - | Winner Game 2 | - |
| 4-11 | Seed 1 | - | Winner Game 3 | - |
| 4-11 | Winner Game 4 | - | Winner Game 5 | - |
| | | | | |
| --- | --- | --- | --- | --- |
| Winner Game 1 | 0-0-0 | 0-0-0 | | |
| Seed 1 | 0-0-0 | 0-0-0 | | |
| Seed 6 | 0-0-0 | 0-0-0 | | |
| Seed 2 | 0-0-0 | 0-0-0 | | |
| Winner Game 2 | 0-0-0 | 0-0-0 | | |
| Winner Game 5 | 0-0-0 | 0-0-0 | | |
| Winner Game 4 | 0-0-0 | 0-0-0 | | |
| Seed 3 | 0-0-0 | 0-0-0 | | |
| Seed 5 | 0-0-0 | 0-0-0 | | |
| Diamond Athletics 10U | 0-0-0 | 17-13-1 | | |
| Avengers 10u | 0-0-0 | 27-16-0 | | |
| Hornets | 0-0-0 | 35-14-0 | | |
| East Coast Sox | 0-0-0 | 1-2-0 | | |
| Seed 4 | 0-0-0 | 0-0-0 | | |
| Klutch Brand | 0-0-0 | 10-7-0 | | |
| South Alabama Rattlers | 0-0-0 | 13-16-0 | | |
Games
| | | | | |
| --- | --- | --- | --- | --- |
| 4-11 | South Alabama Rattlers | - | Avengers 10u | - |
| 4-11 | Diamond Athletics 10U | - | Hornets | - |
| 4-11 | East Coast Sox | - | South Alabama Rattlers | - |
| 4-11 | Klutch Brand | - | Hornets | - |
| 4-11 | Avengers 10u | - | East Coast Sox | - |
| 4-11 | Klutch Brand | - | Diamond Athletics 10U | - |
| 4-11 | Seed 4 | - | Seed 5 | - |
| 4-11 | Seed 3 | - | Seed 6 | - |
| 4-11 | Seed 1 | - | Winner Game 1 | - |
| 4-11 | Seed 2 | - | Winner Game 2 | - |
| 4-11 | Winner Game 4 | - | Winner Game 5 | - |
| | | | | |
| --- | --- | --- | --- | --- |
| Seed 1 | 0-0-0 | 0-0-0 | | |
| Seed 3 | 0-0-0 | 0-0-0 | | |
| Winner Game 1 | 0-0-0 | 0-0-0 | | |
| Winner Game 2 | 0-0-0 | 0-0-0 | | |
| Winner Game 3 | 0-0-0 | 0-0-0 | | |
| Seed 2 | 0-0-0 | 0-0-0 | | |
| Seed 5 | 0-0-0 | 0-0-0 | | |
| Overdrive | 0-0-0 | 18-14-1 | | |
| Tallahassee Heat | 0-0-0 | 7-1-0 | | |
| South Walton Hawks 12u | 0-0-0 | 20-12-0 | | |
| NWF Baseball | 0-0-0 | 23-10-1 | | |
| Seed 4 | 0-0-0 | 0-0-0 | | |
| The Southern Closers | 0-0-0 | 11-12-2 | | |
Games
| | | | | |
| --- | --- | --- | --- | --- |
| 4-11 | The Southern Closers | - | Tallahassee Heat | - |
| 4-11 | Overdrive | - | South Walton Hawks 12u | - |
| 4-11 | Overdrive | - | Tallahassee Heat | - |
| 4-11 | South Walton Hawks 12u | - | NWF Baseball | - |
| 4-11 | The Southern Closers | - | NWF Baseball | - |
| 4-11 | Seed 4 | - | Seed 5 | - |
| 4-11 | Seed 2 | - | Seed 3 | - |
| 4-11 | Seed 1 | - | Winner Game 1 | - |
| 4-11 | Winner Game 2 | - | Winner Game 3 | - |
| | | | | |
| --- | --- | --- | --- | --- |
| Winner Game 1 | 0-0-0 | 0-0-0 | | |
| Seed 1 | 0-0-0 | 0-0-0 | | |
| Seed 6 | 0-0-0 | 0-0-0 | | |
| Seed 2 | 0-0-0 | 0-0-0 | | |
| Winner Game 2 | 0-0-0 | 0-0-0 | | |
| Winner Game 4 | 0-0-0 | 0-0-0 | | |
| Winner Game 3 | 0-0-0 | 0-0-0 | | |
| Seed 3 | 0-0-0 | 0-0-0 | | |
| Seed 5 | 0-0-0 | 0-0-0 | | |
| Regulators 12U | 0-0-0 | 20-12-0 | | |
| Southen Closers | 0-0-0 | 13-15-0 | | |
| DKSA ELITE 12U | 0-0-0 | 13-8-0 | | |
| American Thunder | 0-0-0 | 12-12-0 | | |
| Seed 4 | 0-0-0 | 0-0-0 | | |
| Tallahassee Heat | 0-0-0 | 23-7-1 | | |
| Florida Prospects Baseball | 0-0-0 | 38-6-0 | | |
Games
| | | | | |
| --- | --- | --- | --- | --- |
| 4-11 | Florida Prospects Baseball | - | Southen Closers | - |
| 4-11 | Regulators 12U | - | DKSA ELITE 12U | - |
| 4-11 | Florida Prospects Baseball | - | American Thunder | - |
| 4-11 | Regulators 12U | - | Tallahassee Heat | - |
| 4-11 | American Thunder | - | DKSA ELITE 12U | - |
| 4-11 | Southen Closers | - | Tallahassee Heat | - |
| 4-11 | Seed 4 | - | Seed 5 | - |
| 4-11 | Seed 3 | - | Seed 6 | - |
| 4-11 | Seed 1 | - | Winner Game 1 | - |
| 4-11 | Seed 2 | - | Winner Game 2 | - |
| 4-11 | Winner Game 3 | - | Winner Game 4 | - |
| | | | | |
| --- | --- | --- | --- | --- |
| Winner Game 1 | 0-0-0 | 0-0-0 | | |
| Seed 4 | 0-0-0 | 0-0-0 | | |
| Seed 1 | 0-0-0 | 0-0-0 | | |
| Winner Game 2 | 0-0-0 | 0-0-0 | | |
| Seed 6 | 0-0-0 | 0-0-0 | | |
| Seed 5 | 0-0-0 | 0-0-0 | | |
| Seed 7 | 0-0-0 | 0-0-0 | | |
| Seed 3 | 0-0-0 | 0-0-0 | | |
| Seed 2 | 0-0-0 | 0-0-0 | | |
| Tri County Lightning | 0-0-0 | 16-6-3 | | |
| Grind 13U Thomas | 0-0-0 | 9-2-0 | | |
| Diamond Athletics - Chaos | 0-0-0 | 18-4-0 | | |
| North Florida Grit | 0-0-0 | 3-10-0 | | |
| DKSA ELITE 13U | 0-0-0 | 14-4-1 | | |
| NF Warhawks | 0-0-0 | 8-8-1 | | |
| WSA RED 13U | 0-0-0 | 10-13-0 | | |
Games
| | | | | |
| --- | --- | --- | --- | --- |
| 4-11 | WSA RED 13U | - | Grind 13U Thomas | - |
| 4-11 | Tri County Lightning | - | Diamond Athletics - Chaos | - |
| 4-11 | WSA RED 13U | - | North Florida Grit | - |
| 4-11 | NF Warhawks | - | Diamond Athletics - Chaos | - |
| 4-11 | DKSA ELITE 13U | - | Grind 13U Thomas | - |
| 4-11 | Tri County Lightning | - | NF Warhawks | - |
| 4-11 | North Florida Grit | - | DKSA ELITE 13U | - |
| 4-11 | Seed 2 | - | Seed 3 | - |
| 4-11 | Seed 1 | - | Seed 4 | - |
| 4-11 | Winner Game 1 | - | Winner Game 2 | - |
| 4-11 | Seed 6 | - | Seed 7 | - |
| 4-11 | Seed 5 | - | Winner Game 1 | - |
Event Address: 300 TAYLOR RD, DOTHAN, AL 36303

Map and Directions
Weather:
DOTHAN WEATHER