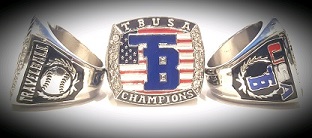 TBUSA BATTLE OF THE BATS - PANAMA CITY BEACH, FL
FRANK BROWN PARK / PANAMA CITY BEACH, FL
April 17, 2021 through April 18, 2021
**2021 SPRING BASEBALL SCHEDULE** (PANAMA CITY BEACH, FLORIDA)
ENTRY FEE: 7U-8U FREE, 9U-14U $325. COME JOIN TBUSA. LIMITED SLOTS AVAILABLE DON'T WAIT AND MISS OUT REGISTER YOUR TEAM TODAY TO SAVE YOUR SPOT.
ALL WEATHER UPDATES OR SCHEDULE CHANGES WILL BE POSTED HERE
UPDATE 4:18AM Sunday
FRANK BROWN COMPLEX
8U-12U
UPDATE FIRST GAME MOVED TO 10:00AM SUNDAY
WE WILL HAVE MAINTENANCE LOOK AT 6:30AM
Brackets have been updated look at games on 4/18/2021
10U/11U/12U will finish pool play then seed games will follow
Please look at seed game times

8U/9U Seed Game Time have been Posted

Jerry/TBUSA
14U - Not Playable (Arnold High School)
*LOCATIONS*
FRANK BROWN PARK - 16200 PANAMA CITY BEACH PKWY, PANAMA CITY BEACH
ARNOLD HIGH SCHOOL - 550 ALF COLEMAN RD., PANAMA CITY BEACH
8U/9U/10U/11U/12U - FRANK BROWN PARK
14U - ARNOLD HIGH SCHOOL
COACHES ONLY (1) TEAM COOLER ALLOWED IN PARK.
NO PERSONAL COOLERS ALLOWED IN PARK.
NO PETS ALLOWED IN PARK.
Tournament Entry Deadline: April 14, 2021 at 6 pm CST
Pay online or make checks payable to TBUSA.
Saturday games will consist of pool play. Seeding will be based on Saturdays performance leading into Sundays Championship with single elimination play. Team trophies with individual awards for 1st and 2nd place teams in each age division.
7U
8U
Traveling Eagles
8
Niceville, FL
LA Sliders
8
Skipperville, AL
Pelicans
8
Panama City, FL
Aces Black
8
Daphne, AL
9U
Capital City Titans
9
Tallahassee, FL
SGSA
9
Moultrie, GA
Wiregrass Bolts
9
Wiregrass Bolts Dothan Al., AL
Tallahassee Renegades
9
Tallahassee, FL
South Walton Hawks 9U
9
Santa Rosa Beach, FL
Cowboys Baseball
9
Santa Rosa Beach, FL
Sandlot Legends
9
Ashford, AL
Stingers
9
Thomasville, GA
Gulf Coast Crush
9
Panama City, FL
10U
Owls
10
Slocomb, AL
Taylor County Outlaws
10
Perry, FL
Outlaws
10
Pace, FL
Tallahassee Renegades
10
Tallahassee, FL
10U South GA Mariners, Inc.-McCullough
10
Leesburg, GA
South Walton Hawks 10u
10
Santa Rosa Beach, FL
5 Star National Buhler
10
Tifton, GA
East Coast Sox
10
Pace, FL
Legends 10U
10
Pace, FL
Klutch Brand
10
Destin, FL
Avengers 10u
10
Enterprise, AL
11U
Chaos 11-U
11
Enterprise, AL
Tallahassee Renegades
11
Tallahassee, FL
SGSA
11
Moultrie, GA, GA
DBacks
11
Headland, AL, GA
Thomasville Warriors
11
Thomasville, GA
12U
PCB Braves
12
Panama City Beach, FL
PC Ballers
12
Panama City Beach, FL
Traveling Eagles
12
Niceville, FL
Florida Prospects Baseball
12
Panama City, FL
Storm Baseball
12
Panama City, FL
Capital City Titans
12
Tallahassee, FL
Powermill
12
Tallahassee, FL
Southen Closers
12
Dothan, AL
Tallahassee Renegades 12U
12
Tallahassee, FL
American Thunder
12
Dothan, AL
13U
14U
Florida Grind 14U
14
Florida Grind 14U, FL
PCB Marlins
14
Panama City Beach, FL
WFBA 14U White
14
Cantonment, FL
Bucks Baseball
14
DeFuniak Springs, FL
East Coast Sox White
14
Pace, FL
15U
16U
17U
18U

Print Brackets
8U
Pelicans
LA Sliders
-vs-
04/17/2021 - 10:00 AM
FIELD 1
Pelicans
Traveling Eagles
-vs-
04/17/2021 - 11:20 AM
FIELD 1
Aces Black
LA Sliders
-vs-
04/17/2021 - 12:40 PM
FIELD 1
Traveling Eagles
Aces Black
-vs-
04/17/2021 - 2:00 PM
FIELD 1
Aces Black
Traveling Eagles
-vs-
04/18/2021 - 10:00 AM
FIELD 1 (GM1)
Pelicans
LA Sliders
-vs-
04/18/2021 - 11:20 AM
FIELD 1 (GM2)
Aces Black
Pelicans
-vs-
04/18/2021 - 12:40 PM
FIELD 1 (CHAMPIONSHIP)
9U
Capital City Titans
Wiregrass Bolts
-vs-
04/17/2021 - 10:00 AM
FIELD 2
Gulf Coast Crush
Cowboys Baseball
-vs-
04/17/2021 - 10:00 AM
FIELD 3
Capital City Titans
Sandlot Legends
-vs-
04/17/2021 - 11:10 AM
FIELD 2
Gulf Coast Crush
Tallahassee Renegades
-vs-
04/17/2021 - 11:10 AM
FIELD 3
SGSA
Wiregrass Bolts
-vs-
04/17/2021 - 12:20 PM
FIELD 2
Tallahassee Renegades
Cowboys Baseball
-vs-
04/17/2021 - 12:20 PM
FIELD 3
Stingers
Sandlot Legends
-vs-
04/17/2021 - 1:30 PM
FIELD 2
South Walton Hawks 9U
SGSA
-vs-
04/17/2021 - 2:40 PM
FIELD 2
South Walton Hawks 9U
Stingers
-vs-
04/17/2021 - 3:50 PM
FIELD 2
Capital City Titans
Stingers
-vs-
04/18/2021 - 10:00 AM
FIELD 2 (GROUP B) GM1
SGSA
Cowboys Baseball
-vs-
04/18/2021 - 11:10 AM
FIELD 2 (GROUP B) GM2
Stingers
Cowboys Baseball
-vs-
04/18/2021 - 12:20 PM
FIELD 2 (GROUP B) CHAMPIONSHIP
Wiregrass Bolts
Tallahassee Renegades
-vs-
04/18/2021 - 1:30 PM
FIELD 2 (GROUP A) GM1
Sandlot Legends
Gulf Coast Crush
-vs-
04/18/2021 - 2:40 PM
FIELD 2 (GROUP A) GM2
South Walton Hawks 9U
Tallahassee Renegades
-vs-
04/18/2021 - 3:50 PM
FIELD 2 (GROUP A) GM3
Sandlot Legends
Tallahassee Renegades
-vs-
04/18/2021 - 5:00 PM
FIELD 2 (GROUP A) CHAMPIONSHIP
10U
5 Star National Buhler
Outlaws
-vs-
04/17/2021 - 10:00 AM
FIELD 4
5 Star National Buhler
Legends 10U
-vs-
04/17/2021 - 11:10 AM
FIELD 4
Owls
Outlaws
-vs-
04/17/2021 - 12:20 PM
FIELD 4
Taylor County Outlaws
Klutch Brand
-vs-
04/17/2021 - 1:30 PM
FIELD 3
Legends 10U
Tallahassee Renegades
-vs-
04/17/2021 - 1:30 PM
FIELD 4
10U South GA Mariners, Inc.-McCullough
Klutch Brand
-vs-
04/17/2021 - 2:40 PM
FIELD 3
Owls
East Coast Sox
-vs-
04/17/2021 - 2:40 PM
FIELD 4
Avengers 10u
Taylor County Outlaws
-vs-
04/17/2021 - 3:50 PM
FIELD 3
Tallahassee Renegades
South Walton Hawks 10u
-vs-
04/17/2021 - 3:50 PM
FIELD 4
Avengers 10u
10U South GA Mariners, Inc.-McCullough
-vs-
04/17/2021 - 5:00 PM
FIELD 3
East Coast Sox
South Walton Hawks 10u
-vs-
04/17/2021 - 5:00 PM
FIELD 4
Avengers 10u
Taylor County Outlaws
-vs-
04/18/2021 - 10:00 AM
FIELD 3
Tallahassee Renegades
South Walton Hawks 10u
-vs-
04/18/2021 - 10:00 AM
FIELD 4
Avengers 10u
10U South GA Mariners, Inc.-McCullough
-vs-
04/18/2021 - 11:10 AM
FIELD 3
East Coast Sox
South Walton Hawks 10u
-vs-
04/18/2021 - 11:10 AM
FIELD 4
10U South GA Mariners, Inc.-McCullough
Taylor County Outlaws
-vs-
04/18/2021 - 12:20 PM
FIELD 3 (GROUP B) GM1
Outlaws
South Walton Hawks 10u
-vs-
04/18/2021 - 1:30 PM
FIELD 3 (GROUP B) GM2
East Coast Sox
10U South GA Mariners, Inc.-McCullough
-vs-
04/18/2021 - 2:40 PM
FIELD 3 (GROUP B) GM3
Outlaws
10U South GA Mariners, Inc.-McCullough
-vs-
04/18/2021 - 3:50 PM
FIELD 3 (GROUP B) CHAMPIONSHIP
Legends 10U
Owls
-vs-
04/18/2021 - 12:20 PM
FIELD 4 (GROUP A) GM1
Klutch Brand
5 Star National Buhler
-vs-
04/18/2021 - 1:30 PM
FIELD 4 (GROUP A) GM2
Avengers 10u
Legends 10U
-vs-
04/18/2021 - 2:40 PM
FIELD 4 (GROUP A) GM3
Tallahassee Renegades
5 Star National Buhler
-vs-
04/18/2021 - 3:50 PM
FIELD 4 (GROUP A) GM4
Legends 10U
5 Star National Buhler
-vs-
04/18/2021 - 5:00 PM
FIELD 4 (GROUP A) CHAMPIONSHIP
11U
Chaos 11-U
DBacks
-vs-
04/17/2021 - 10:00 AM
FIELD 7
DBacks
Tallahassee Renegades
-vs-
04/17/2021 - 11:40 AM
FIELD 7
Chaos 11-U
SGSA
-vs-
04/17/2021 - 1:20 PM
FIELD 7
Thomasville Warriors
Tallahassee Renegades
-vs-
04/17/2021 - 3:00 PM
FIELD 7
SGSA
Thomasville Warriors
-vs-
04/17/2021 - 4:40 PM
FIELD 7
SGSA
Thomasville Warriors
-vs-
04/18/2021 - 10:00 AM
FIELD 7
Chaos 11-U
Tallahassee Renegades
-vs-
04/18/2021 - 11:10 AM
FIELD 7 (GM1)
DBacks
SGSA
-vs-
04/18/2021 - 12:40 PM
FIELD 7 (GM2)
Thomasville Warriors
Chaos 11-U
-vs-
04/18/2021 - 2:10 PM
FIELD 7 (GM3)
DBacks
Thomasville Warriors
-vs-
04/18/2021 - 3:30 PM
FIELD 7 (CHAMPIONSHIP)
12U
PCB Braves
Capital City Titans
-vs-
04/17/2021 - 10:00 AM
FIELD 8
PC Ballers
Tallahassee Renegades 12U
-vs-
04/17/2021 - 10:00 AM
FIELD 9
Storm Baseball
Capital City Titans
-vs-
04/17/2021 - 11:40 AM
FIELD 8
Tallahassee Renegades 12U
Traveling Eagles
-vs-
04/17/2021 - 11:40 AM
FIELD 9
PCB Braves
American Thunder
-vs-
04/17/2021 - 1:20 AM
FIELD 8
PC Ballers
Southen Closers
-vs-
04/17/2021 - 1:20 AM
FIELD 9
Powermill
Storm Baseball
-vs-
04/17/2021 - 3:00 PM
FIELD 8
Florida Prospects Baseball
Traveling Eagles
-vs-
04/17/2021 - 3:00 PM
FIELD 9
Powermill
American Thunder
-vs-
04/17/2021 - 4:40 PM
FIELD 8
Florida Prospects Baseball
Southen Closers
-vs-
04/17/2021 - 4:40 PM
FIELD 9
Powermill
American Thunder
-vs-
04/18/2021 - 10:00 AM
FIELD 8
Florida Prospects Baseball
Southen Closers
-vs-
04/18/2021 - 10:00 AM
FIELD 9
Traveling Eagles
Capital City Titans
-vs-
04/18/2021 - 11:10 AM
FIELD 8 (GROUP B) GM1
Southen Closers
Powermill
-vs-
04/18/2021 - 12:40 PM
FIELD 8 (GROUP B) GM2
Tallahassee Renegades 12U
Traveling Eagles
-vs-
04/18/2021 - 2:10 PM
FIELD 8 (GROUP B) GM3
Powermill
Tallahassee Renegades 12U
-vs-
04/18/2021 - 3:30 PM
FIELD 8 (GROUP B) CHAMPIONSHIP
PCB Braves
PC Ballers
-vs-
04/18/2021 - 11:10 AM
FIELD 9 (GROUP A) GM1
American Thunder
Storm Baseball
-vs-
04/18/2021 - 12:40 PM
FIELD 9 (GROUP A) GM2
Florida Prospects Baseball
PC Ballers
-vs-
04/18/2021 - 2:10 PM
FIELD 9 (GROUP A) GM3
Storm Baseball
Florida Prospects Baseball
-vs-
04/18/2021 - 3:30 PM
FIELD 9 (GROUP A) CHAMPIONSHIP
14U
East Coast Sox White
PCB Marlins
-vs-
04/17/2021 - 8:00 AM
ARNOLD HIGH SCHOOL
East Coast Sox White
Florida Grind 14U
-vs-
04/17/2021 - 9:40 AM
ARNOLD HIGH SCHOOL
PCB Marlins
Bucks Baseball
-vs-
04/17/2021 - 11:20 AM
ARNOLD HIGH SCHOOL
WFBA 14U White
Florida Grind 14U
-vs-
04/17/2021 - 1:00 PM
ARNOLD HIGH SCHOOL
Bucks Baseball
WFBA 14U White
-vs-
04/17/2021 - 2:40 PM
ARNOLD HIGH SCHOOL
| | | | | |
| --- | --- | --- | --- | --- |
| Pelicans | 4-0-0 | 11-10-0 | 1 | 1 |
| Aces Black | 3-1-0 | 3-1-0 | 2 | 2 |
| Traveling Eagles | 0-3-0 | 0-3-0 | 3 | 3 |
| LA Sliders | 0-3-0 | 26-15-0 | 4 | 4 |
Games
| | | | | |
| --- | --- | --- | --- | --- |
| 4-17 | Pelicans | 13 | LA Sliders | 3 |
| 4-17 | Pelicans | 10 | Traveling Eagles | 0 |
| 4-17 | Aces Black | 11 | LA Sliders | 6 |
| 4-17 | Traveling Eagles | 3 | Aces Black | 13 |
| 4-18 | Aces Black | 12 | Traveling Eagles | 0 |
| 4-18 | Pelicans | 14 | LA Sliders | 6 |
| 4-18 | Aces Black | 11 | Pelicans | 12 |
| | | | | |
| --- | --- | --- | --- | --- |
| Sandlot Legends | 4-0-0 | 17-6-1 | 1 | 2 |
| Tallahassee Renegades | 3-2-0 | 10-14-3 | 2 | 5 |
| South Walton Hawks 9U | 2-1-0 | 21-5-0 | 3 | 1 |
| Gulf Coast Crush | 2-1-0 | 16-21-0 | 4 | 3 |
| Wiregrass Bolts | 1-1-1 | 2-16-1 | 5 | 4 |
| Stingers | 2-2-0 | 3-4-1 | 6 | 8 |
| Cowboys Baseball | 1-3-0 | 2-8-0 | 7 | 9 |
| SGSA | 0-2-1 | 0-5-1 | 8 | 6 |
| Capital City Titans | 0-3-0 | 2-23-0 | 9 | 7 |
Games
| | | | | |
| --- | --- | --- | --- | --- |
| 4-17 | Capital City Titans | 5 | Wiregrass Bolts | 6 |
| 4-17 | Gulf Coast Crush | 19 | Cowboys Baseball | 7 |
| 4-17 | Capital City Titans | 3 | Sandlot Legends | 9 |
| 4-17 | Gulf Coast Crush | 5 | Tallahassee Renegades | 1 |
| 4-17 | SGSA | 6 | Wiregrass Bolts | 6 |
| 4-17 | Tallahassee Renegades | 5 | Cowboys Baseball | 0 |
| 4-17 | Stingers | 3 | Sandlot Legends | 8 |
| 4-17 | South Walton Hawks 9U | 7 | SGSA | 2 |
| 4-17 | South Walton Hawks 9U | 7 | Stingers | 1 |
| 4-18 | Capital City Titans | 2 | Stingers | 11 |
| 4-18 | SGSA | 1 | Cowboys Baseball | 7 |
| 4-18 | Stingers | 6 | Cowboys Baseball | 5 |
| 4-18 | Wiregrass Bolts | 2 | Tallahassee Renegades | 7 |
| 4-18 | Sandlot Legends | 9 | Gulf Coast Crush | 0 |
| 4-18 | South Walton Hawks 9U | 3 | Tallahassee Renegades | 4 |
| 4-18 | Sandlot Legends | 4 | Tallahassee Renegades | 0 |
| | | | | |
| --- | --- | --- | --- | --- |
| Legends 10U | 4-1-0 | 4-1-0 | 1 | 4 |
| 5 Star National Buhler | 3-2-0 | 12-7-1 | 2 | 6 |
| Avengers 10u | 2-1-0 | 27-16-0 | 3 | 1 |
| Tallahassee Renegades | 2-1-0 | 11-4-1 | 4 | 2 |
| Klutch Brand | 2-1-0 | 10-7-0 | 5 | 3 |
| Owls | 1-2-0 | 14-21-0 | 6 | 5 |
| Outlaws | 3-1-0 | 6-3-0 | 7 | 8 |
| 10U South GA Mariners, Inc.-McCullough | 2-3-0 | 5-7-0 | 8 | 10 |
| East Coast Sox | 1-2-0 | 1-2-0 | 9 | 7 |
| South Walton Hawks 10u | 0-3-0 | 3-14-0 | 10 | 9 |
| Taylor County Outlaws | 0-3-0 | 0-3-0 | 11 | 11 |
Games
| | | | | |
| --- | --- | --- | --- | --- |
| 4-17 | 5 Star National Buhler | 5 | Outlaws | 3 |
| 4-17 | 5 Star National Buhler | 2 | Legends 10U | 4 |
| 4-17 | Owls | 3 | Outlaws | 4 |
| 4-17 | Taylor County Outlaws | 0 | Klutch Brand | 9 |
| 4-17 | Legends 10U | 0 | Tallahassee Renegades | 2 |
| 4-17 | 10U South GA Mariners, Inc.-McCullough | 5 | Klutch Brand | 9 |
| 4-17 | Owls | 4 | East Coast Sox | 1 |
| 4-17 | Avengers 10u | - | Taylor County Outlaws | - |
| 4-17 | Tallahassee Renegades | - | South Walton Hawks 10u | - |
| 4-17 | Avengers 10u | - | 10U South GA Mariners, Inc.-McCullough | - |
| 4-17 | East Coast Sox | - | South Walton Hawks 10u | - |
| 4-18 | Avengers 10u | 8 | Taylor County Outlaws | 0 |
| 4-18 | Tallahassee Renegades | 7 | South Walton Hawks 10u | 2 |
| 4-18 | Avengers 10u | 4 | 10U South GA Mariners, Inc.-McCullough | 0 |
| 4-18 | East Coast Sox | 5 | South Walton Hawks 10u | 3 |
| 4-18 | 10U South GA Mariners, Inc.-McCullough | 7 | Taylor County Outlaws | 3 |
| 4-18 | Outlaws | 6 | South Walton Hawks 10u | 5 |
| 4-18 | East Coast Sox | 1 | 10U South GA Mariners, Inc.-McCullough | 8 |
| 4-18 | Outlaws | 10 | 10U South GA Mariners, Inc.-McCullough | 0 |
| 4-18 | Legends 10U | 14 | Owls | 2 |
| 4-18 | Klutch Brand | 2 | 5 Star National Buhler | 4 |
| 4-18 | Avengers 10u | 2 | Legends 10U | 9 |
| 4-18 | Tallahassee Renegades | 0 | 5 Star National Buhler | 5 |
| 4-18 | Legends 10U | 3 | 5 Star National Buhler | 1 |
| | | | | |
| --- | --- | --- | --- | --- |
| DBacks | 4-0-0 | 23-12-1 | 1 | 2 |
| Thomasville Warriors | 3-1-0 | 6-9-0 | 2 | 1 |
| SGSA | 1-2-0 | 1-2-0 | 3 | 3 |
| Chaos 11-U | 1-3-0 | 11-27-0 | 4 | 4 |
| Tallahassee Renegades | 0-3-0 | 12-8-1 | 5 | 5 |
Games
| | | | | |
| --- | --- | --- | --- | --- |
| 4-17 | Chaos 11-U | 2 | DBacks | 4 |
| 4-17 | DBacks | 14 | Tallahassee Renegades | 5 |
| 4-17 | Chaos 11-U | 10 | SGSA | 11 |
| 4-17 | Thomasville Warriors | 10 | Tallahassee Renegades | 3 |
| 4-17 | SGSA | - | Thomasville Warriors | - |
| 4-18 | SGSA | 3 | Thomasville Warriors | 9 |
| 4-18 | Chaos 11-U | 6 | Tallahassee Renegades | 3 |
| 4-18 | DBacks | 6 | SGSA | 1 |
| 4-18 | Thomasville Warriors | 11 | Chaos 11-U | 10 |
| 4-18 | DBacks | 11 | Thomasville Warriors | 1 |
| | | | | |
| --- | --- | --- | --- | --- |
| Florida Prospects Baseball | 4-0-0 | 38-6-0 | 1 | 1 |
| Storm Baseball | 3-1-0 | 9-22-1 | 2 | 3 |
| American Thunder | 2-1-0 | 12-12-0 | 3 | 2 |
| PC Ballers | 2-2-0 | 2-13-1 | 4 | 5 |
| PCB Braves | 1-2-0 | 6-10-1 | 5 | 4 |
| Tallahassee Renegades 12U | 3-1-0 | 4-3-0 | 6 | 6 |
| Powermill | 1-3-0 | 14-19-3 | 7 | 8 |
| Southen Closers | 1-2-0 | 13-15-0 | 8 | 7 |
| Traveling Eagles | 1-3-0 | 1-3-0 | 9 | 9 |
| Capital City Titans | 0-3-0 | 0-18-0 | 10 | 10 |
Games
| | | | | |
| --- | --- | --- | --- | --- |
| 4-17 | PCB Braves | 15 | Capital City Titans | 4 |
| 4-17 | PC Ballers | 6 | Tallahassee Renegades 12U | 3 |
| 4-17 | Storm Baseball | 8 | Capital City Titans | 7 |
| 4-17 | Tallahassee Renegades 12U | 6 | Traveling Eagles | 5 |
| 4-17 | PCB Braves | 0 | American Thunder | 1 |
| 4-17 | PC Ballers | 3 | Southen Closers | 8 |
| 4-17 | Powermill | 2 | Storm Baseball | 9 |
| 4-17 | Florida Prospects Baseball | 14 | Traveling Eagles | 0 |
| 4-17 | Powermill | - | American Thunder | - |
| 4-17 | Florida Prospects Baseball | - | Southen Closers | - |
| 4-18 | Powermill | 2 | American Thunder | 6 |
| 4-18 | Florida Prospects Baseball | 11 | Southen Closers | 0 |
| 4-18 | Traveling Eagles | 9 | Capital City Titans | 8 |
| 4-18 | Southen Closers | 1 | Powermill | 6 |
| 4-18 | Tallahassee Renegades 12U | 6 | Traveling Eagles | 1 |
| 4-18 | Powermill | 8 | Tallahassee Renegades 12U | 9 |
| 4-18 | PCB Braves | 3 | PC Ballers | 4 |
| 4-18 | American Thunder | 1 | Storm Baseball | 2 |
| 4-18 | Florida Prospects Baseball | 18 | PC Ballers | 0 |
| 4-18 | Storm Baseball | 0 | Florida Prospects Baseball | 10 |
| | | | | |
| --- | --- | --- | --- | --- |
| WFBA 14U White | 0-0-0 | 0-6-0 | | |
| Bucks Baseball | 0-0-0 | 15-18-2 | | |
| Florida Grind 14U | 0-0-0 | 13-9-1 | | |
| PCB Marlins | 0-0-0 | 0-2-1 | | |
| East Coast Sox White | 0-0-0 | 2-1-0 | | |
Games
| | | | | |
| --- | --- | --- | --- | --- |
| 4-17 | East Coast Sox White | - | PCB Marlins | - |
| 4-17 | East Coast Sox White | - | Florida Grind 14U | - |
| 4-17 | PCB Marlins | - | Bucks Baseball | - |
| 4-17 | WFBA 14U White | - | Florida Grind 14U | - |
| 4-17 | Bucks Baseball | - | WFBA 14U White | - |
Event Address: 16200 PANAMA CITY BEACH PKWY, PANAMA CITY BEACH, FL 32413

Map and Directions
Weather:
INLET BEACH WEATHER