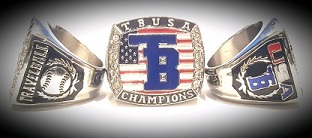 TBUSA CHIPOLA RIVER BASH - MARIANNA, FL
MERE SPORTS COMPLEX / MARIANNA, FL
June 5, 2021 through June 6, 2021
**2021 SPRING BASEBALL SCHEDULE** (MARIANNA, FLORIDA)
ENTRY FEE: 7U-8U FREE, 9U-14U $325. COME JOIN TBUSA. LIMITED SLOTS AVAILABLE DON'T WAIT AND MISS OUT REGISTER YOUR TEAM TODAY TO SAVE YOUR SPOT.
CLICK RESULTS TO SEE SEED #
GAME TIMES CST
13U/14U - FIELD 1 & 5 NO STEEL CLEATS ON PORTABLE MOUNDS
COACHES ONLY (1) TEAM COOLER ALLOWED IN PARK.
NO PERSONAL COOLERS ALLOWED IN PARK.
NO PETS ALLOWED IN PARK.
Tournament Entry Deadline: June 2, 2021 at 6 pm CST
Pay online or make checks payable to TBUSA.
Saturday games will consist of pool play. Seeding will be based on Saturdays performance leading into Sundays Championship with single elimination play. Team trophies with individual awards for 1st and 2nd place teams in each age division.
7U
8U
9U
Tallahassee Renegades
9
Tallahassee, FL
Diamond Athletics 9u
9
Enterprise, AL
Capital City Titans
9
Tallahassee, FL
10U
Tallahassee Renegades
10
Tallahassee, FL
5 Star National Buhler
10
Tifton, GA
Klutch Brand
10
Destin, FL
11U
Dal Ozone Rookie Allstars
11
Dothan, AL
Tallahassee Heat
11
Tallahassee, FL
12U
HK Prime 9
12
Dothan, AL
Powermill
12
Tallahassee, FL
Regulators 12U
12
DOTHAN, AL
Tallahassee Heat
12
Tallahassee, FL
Tallahassee Heat
12
Tallahassee, FL
Capital City Titans
12
Tallahassee, FL
Tallahassee Renegades 12U
12
Tallahassee, FL
Trojans 12u
12
Troy, AL
PC Ballers
12
Panama City Beach, FL
DKSA ELITE 12U
12
Thomasville, GA
Alabama Colts
12
Alabaster, AL
13U
5 Star National Grubbs
13
Tifton, GA
Traveling Eagles Maroon
13
Niceville, FL
Traveling Eagles Gray
13
Niceville, FL
Wiregrass Indians
13
Headland, AL
Young Guns
13
Brantley, AL
Tri County Lightning
13
Marianna, FL
NF Warhawks
13
Crawfordville, FL
Line Drive
13
Sylvester, GA
Dothan Expos 13U
13
MIDLAND CITY, AL
Pipeline Prime
13
Navarre, FL
5 Star National
13
Tifton, GA
Pirates Baseball
13
Sneads, FL
14U
Bucks Baseball
14
DeFuniak Springs, FL
Pines - DeRosso
14
Nashville, GA
CS Knights - Maroon
14
Cairo, GA
5 Star National Griffis
14
Tifton, GA
SGSA Sharks
14
Camilla, GA
15U
16U
17U
18U

Print Brackets
9U
Tallahassee Renegades
Diamond Athletics 9u
-vs-
06/05/2021 - 8:00 AM
FIELD 8
Tallahassee Renegades
Capital City Titans
-vs-
06/05/2021 - 9:40 AM
FIELD 8
Diamond Athletics 9u
Capital City Titans
-vs-
06/05/2021 - 11:20 AM
FIELD 8
Tallahassee Renegades
Capital City Titans
-vs-
06/05/2021 - 1:00 PM
FIELD 8 (GM1)
Diamond Athletics 9u
Tallahassee Renegades
-vs-
06/05/2021 - 2:40 PM
FIELD 8 (CHAMPIONSHIP)
10U
Tallahassee Renegades
Klutch Brand
-vs-
06/05/2021 - 8:00 AM
FIELD 4
5 Star National Buhler
Tallahassee Renegades
-vs-
06/05/2021 - 9:40 AM
FIELD 4
Klutch Brand
5 Star National Buhler
-vs-
06/05/2021 - 11:20 AM
FIELD 4
Tallahassee Renegades
Klutch Brand
-vs-
06/05/2021 - 1:00 PM
FIELD 4 (GM1)
5 Star National Buhler
Tallahassee Renegades
-vs-
06/05/2021 - 2:40 PM
FIELD 4 (CHAMPIONSHIP)
12U
HK Prime 9
Powermill
-vs-
06/05/2021 - 9:00 AM
FIELD 3
Tallahassee Heat
Regulators 12U
-vs-
06/05/2021 - 9:00 AM
FIELD 6
DKSA ELITE 12U
PC Ballers
-vs-
06/05/2021 - 9:00 AM
FIELD 7
HK Prime 9
Tallahassee Heat
-vs-
06/05/2021 - 10:40 AM
FIELD 3
Tallahassee Heat
Trojans 12u
-vs-
06/05/2021 - 10:40 AM
FIELD 6
DKSA ELITE 12U
Tallahassee Renegades 12U
-vs-
06/05/2021 - 10:40 AM
FIELD 7
Alabama Colts
Powermill
-vs-
06/05/2021 - 12:20 PM
FIELD 3
Capital City Titans
Regulators 12U
-vs-
06/05/2021 - 12:20 PM
FIELD 6
PC Ballers
Tallahassee Renegades 12U
-vs-
06/05/2021 - 12:20 PM
FIELD 7
Alabama Colts
Tallahassee Heat
-vs-
06/05/2021 - 2:00 PM
FIELD 3
Capital City Titans
Trojans 12u
-vs-
06/05/2021 - 2:00 PM
FIELD 6
Capital City Titans
HK Prime 9
-vs-
06/06/2021 - 8:00 AM
FIELD 7 (GROUP B) GM1
PC Ballers
Tallahassee Heat
-vs-
06/06/2021 - 9:40 AM
FIELD 6 (GROUP B) GM2
Alabama Colts
HK Prime 9
-vs-
06/06/2021 - 9:40 AM
FIELD 7 (GROUP B) GM3
Tallahassee Heat
Alabama Colts
-vs-
06/06/2021 - 11:20 AM
FIELD 7 (GROUP B) CHAMPIONSHIP
Regulators 12U
Tallahassee Renegades 12U
-vs-
06/06/2021 - 8:00 AM
FIELD 3 (GROUP A) GM1
DKSA ELITE 12U
Powermill
-vs-
06/06/2021 - 8:00 AM
FIELD 6 (GROUP A) GM2
Tallahassee Heat
Regulators 12U
-vs-
06/06/2021 - 9:40 AM
FIELD 3 (GROUP A) GM3
Trojans 12u
DKSA ELITE 12U
-vs-
06/06/2021 - 11:20 AM
FIELD 3 (GROUP A) GM4
Tallahassee Heat
Trojans 12u
-vs-
06/06/2021 - 1:00 PM
FIELD 3 (GROUP A) CHAMPIONSHIP
13U
Tri County Lightning
Traveling Eagles Gray
-vs-
06/05/2021 - 8:00 AM
FIELD 2
Pirates Baseball
Wiregrass Indians
-vs-
06/05/2021 - 8:00 AM
FIELD 5
Tri County Lightning
NF Warhawks
-vs-
06/05/2021 - 9:40 AM
FIELD 2
Pirates Baseball
5 Star National Grubbs
-vs-
06/05/2021 - 9:40 AM
FIELD 5
Line Drive
Traveling Eagles Gray
-vs-
06/05/2021 - 11:20 AM
FIELD 2
Young Guns
Wiregrass Indians
-vs-
06/05/2021 - 11:20 AM
FIELD 5
5 Star National
NF Warhawks
-vs-
06/05/2021 - 1:00 PM
FIELD 2
Dothan Expos 13U
5 Star National Grubbs
-vs-
06/05/2021 - 1:00 PM
FIELD 5
Line Drive
Pipeline Prime
-vs-
06/05/2021 - 2:40 PM
FIELD 2
Traveling Eagles Maroon
Young Guns
-vs-
06/05/2021 - 2:40 PM
FIELD 5
5 Star National
Pipeline Prime
-vs-
06/05/2021 - 4:20 PM
FIELD 2
Traveling Eagles Maroon
Dothan Expos 13U
-vs-
06/05/2021 - 4:20 PM
FIELD 5
NF Warhawks
Pirates Baseball
-vs-
06/06/2021 - 8:00 AM
FIELD 5 (GROUP B) GM1
Pipeline Prime
Traveling Eagles Maroon
-vs-
06/06/2021 - 9:40 AM
FIELD 5 (GROUP B) GM2
Young Guns
Pirates Baseball
-vs-
06/06/2021 - 11:20 AM
FIELD 5 (GROUP B) GM3
Traveling Eagles Gray
Pipeline Prime
-vs-
06/06/2021 - 1:00 PM
FIELD 5 (GROUP B) GM4
Young Guns
Pipeline Prime
-vs-
06/06/2021 - 2:40 PM
FIELD 5 (GROUP B) CHAMPIONSHIP
Line Drive
Tri County Lightning
-vs-
06/06/2021 - 8:00 AM
FIELD 2 (GROUP A) GM1
5 Star National
5 Star National Grubbs
-vs-
06/06/2021 - 9:40 AM
FIELD 2 (GROUP A) GM2
Wiregrass Indians
Tri County Lightning
-vs-
06/06/2021 - 11:20 AM
FIELD 2 (GROUP A) GM3
Dothan Expos 13U
5 Star National
-vs-
06/06/2021 - 1:00 PM
FIELD 2 (GROUP A) GM4
Tri County Lightning
5 Star National
-vs-
06/06/2021 - 2:40 PM
FIELD 2 (GROUP A) CHAMPIONSHIP
14U
Bucks Baseball
CS Knights - Maroon
-vs-
06/05/2021 - 8:00 AM
FIELD 1
SGSA Sharks
CS Knights - Maroon
-vs-
06/05/2021 - 9:40 AM
FIELD 1
Pines - DeRosso
Bucks Baseball
-vs-
06/05/2021 - 11:20 AM
FIELD 1
SGSA Sharks
5 Star National Griffis
-vs-
06/05/2021 - 1:00 PM
FIELD 1
Pines - DeRosso
5 Star National Griffis
-vs-
06/05/2021 - 2:40 PM
FIELD 1
CS Knights - Maroon
Pines - DeRosso
-vs-
06/06/2021 - 8:00 AM
FIELD 1
SGSA Sharks
Bucks Baseball
-vs-
06/06/2021 - 9:40 AM
FIELD 1
5 Star National Griffis
Pines - DeRosso
-vs-
06/06/2021 - 11:20 AM
FIELD 1
Bucks Baseball
5 Star National Griffis
-vs-
06/06/2021 - 1:00 PM
FIELD 1 (CHAMPIONSHIP)
| | | | | |
| --- | --- | --- | --- | --- |
| Diamond Athletics 9u | 3-0-0 | 25-9-0 | 1 | 1 |
| Tallahassee Renegades | 2-2-0 | 10-14-3 | 2 | 2 |
| Capital City Titans | 0-3-0 | 2-23-0 | 3 | 3 |
Games
| | | | | |
| --- | --- | --- | --- | --- |
| 6-05 | Tallahassee Renegades | 9 | Diamond Athletics 9u | 19 |
| 6-05 | Tallahassee Renegades | 19 | Capital City Titans | 4 |
| 6-05 | Diamond Athletics 9u | 18 | Capital City Titans | 4 |
| 6-05 | Tallahassee Renegades | 13 | Capital City Titans | 6 |
| 6-05 | Diamond Athletics 9u | 8 | Tallahassee Renegades | 2 |
| | | | | |
| --- | --- | --- | --- | --- |
| Tallahassee Renegades | 3-1-0 | 11-4-1 | 1 | 2 |
| 5 Star National Buhler | 2-1-0 | 12-7-1 | 2 | 1 |
| Klutch Brand | 0-3-0 | 10-7-0 | 3 | 3 |
Games
| | | | | |
| --- | --- | --- | --- | --- |
| 6-05 | Tallahassee Renegades | 11 | Klutch Brand | 10 |
| 6-05 | 5 Star National Buhler | 7 | Tallahassee Renegades | 4 |
| 6-05 | Klutch Brand | 7 | 5 Star National Buhler | 10 |
| 6-05 | Tallahassee Renegades | 9 | Klutch Brand | 8 |
| 6-05 | 5 Star National Buhler | 5 | Tallahassee Renegades | 8 |
| | | | | |
| --- | --- | --- | --- | --- |
| Tallahassee Heat | 4-0-0 | 23-7-1 | 1 | 1 |
| Trojans 12u | 3-1-0 | 23-5-1 | 2 | 2 |
| DKSA ELITE 12U | 3-1-0 | 13-8-0 | 3 | 3 |
| Regulators 12U | 3-1-0 | 20-12-0 | 4 | 4 |
| Tallahassee Renegades 12U | 1-2-0 | 4-3-0 | 5 | 5 |
| Powermill | 1-2-0 | 14-19-3 | 6 | 6 |
| Tallahassee Heat | 2-2-0 | 2-2-0 | 7 | 9 |
| Alabama Colts | 2-2-0 | 2-2-0 | 8 | 7 |
| PC Ballers | 0-3-0 | 2-13-1 | 9 | 8 |
| HK Prime 9 | 1-3-0 | 4-15-0 | 10 | 11 |
| Capital City Titans | 0-3-0 | 0-18-0 | 11 | 10 |
Games
| | | | | |
| --- | --- | --- | --- | --- |
| 6-05 | HK Prime 9 | 3 | Powermill | 13 |
| 6-05 | Tallahassee Heat | 3 | Regulators 12U | 8 |
| 6-05 | DKSA ELITE 12U | 12 | PC Ballers | 5 |
| 6-05 | HK Prime 9 | 0 | Tallahassee Heat | 15 |
| 6-05 | Tallahassee Heat | 3 | Trojans 12u | 10 |
| 6-05 | DKSA ELITE 12U | 10 | Tallahassee Renegades 12U | 0 |
| 6-05 | Alabama Colts | 10 | Powermill | 8 |
| 6-05 | Capital City Titans | 2 | Regulators 12U | 7 |
| 6-05 | PC Ballers | 2 | Tallahassee Renegades 12U | 3 |
| 6-05 | Alabama Colts | 2 | Tallahassee Heat | 11 |
| 6-05 | Capital City Titans | 1 | Trojans 12u | 12 |
| 6-06 | Capital City Titans | 3 | HK Prime 9 | 6 |
| 6-06 | PC Ballers | 0 | Tallahassee Heat | 4 |
| 6-06 | Alabama Colts | 7 | HK Prime 9 | 6 |
| 6-06 | Tallahassee Heat | 13 | Alabama Colts | 6 |
| 6-06 | Regulators 12U | 11 | Tallahassee Renegades 12U | 3 |
| 6-06 | DKSA ELITE 12U | 12 | Powermill | 11 |
| 6-06 | Tallahassee Heat | 13 | Regulators 12U | 2 |
| 6-06 | Trojans 12u | 11 | DKSA ELITE 12U | 8 |
| 6-06 | Tallahassee Heat | 14 | Trojans 12u | 1 |
| | | | | |
| --- | --- | --- | --- | --- |
| Tri County Lightning | 4-0-1 | 16-6-3 | 1 | 5 |
| 5 Star National | 4-1-0 | 4-1-0 | 2 | 3 |
| Wiregrass Indians | 2-1-0 | 11-15-0 | 3 | 1 |
| Dothan Expos 13U | 2-1-0 | 28-11-2 | 4 | 2 |
| Line Drive | 2-1-0 | 2-1-0 | 5 | 4 |
| 5 Star National Grubbs | 1-2-0 | 2-4-0 | 6 | 6 |
| Young Guns | 3-1-0 | 10-28-1 | 7 | 7 |
| Pipeline Prime | 2-3-0 | 7-6-0 | 8 | 9 |
| Traveling Eagles Gray | 0-2-1 | 13-6-1 | 9 | 8 |
| Pirates Baseball | 1-3-0 | 11-15-0 | 10 | 11 |
| NF Warhawks | 0-3-0 | 8-8-1 | 11 | 10 |
| Traveling Eagles Maroon | 0-3-0 | 0-6-0 | 12 | 12 |
Games
| | | | | |
| --- | --- | --- | --- | --- |
| 6-05 | Tri County Lightning | 5 | Traveling Eagles Gray | 5 |
| 6-05 | Pirates Baseball | 3 | Wiregrass Indians | 9 |
| 6-05 | Tri County Lightning | 3 | NF Warhawks | 2 |
| 6-05 | Pirates Baseball | 0 | 5 Star National Grubbs | 7 |
| 6-05 | Line Drive | 9 | Traveling Eagles Gray | 7 |
| 6-05 | Young Guns | 2 | Wiregrass Indians | 7 |
| 6-05 | 5 Star National | 10 | NF Warhawks | 7 |
| 6-05 | Dothan Expos 13U | 6 | 5 Star National Grubbs | 2 |
| 6-05 | Line Drive | 4 | Pipeline Prime | 3 |
| 6-05 | Traveling Eagles Maroon | 4 | Young Guns | 10 |
| 6-05 | 5 Star National | 7 | Pipeline Prime | 3 |
| 6-05 | Traveling Eagles Maroon | 4 | Dothan Expos 13U | 12 |
| 6-06 | NF Warhawks | 2 | Pirates Baseball | 5 |
| 6-06 | Pipeline Prime | 11 | Traveling Eagles Maroon | 3 |
| 6-06 | Young Guns | 4 | Pirates Baseball | 2 |
| 6-06 | Traveling Eagles Gray | 6 | Pipeline Prime | 10 |
| 6-06 | Young Guns | 5 | Pipeline Prime | 2 |
| 6-06 | Line Drive | 2 | Tri County Lightning | 5 |
| 6-06 | 5 Star National | 8 | 5 Star National Grubbs | 6 |
| 6-06 | Wiregrass Indians | 2 | Tri County Lightning | 11 |
| 6-06 | Dothan Expos 13U | 3 | 5 Star National | 7 |
| 6-06 | Tri County Lightning | 7 | 5 Star National | 6 |
| | | | | |
| --- | --- | --- | --- | --- |
| 5 Star National Griffis | 4-0-0 | 4-0-0 | 1 | 1 |
| Bucks Baseball | 2-2-0 | 15-18-2 | 2 | 3 |
| SGSA Sharks | 1-2-0 | 5-2-0 | 3 | 2 |
| Pines - DeRosso | 1-3-0 | 5-3-0 | 4 | 5 |
| CS Knights - Maroon | 1-2-0 | 5-13-0 | 5 | 4 |
Games
| | | | | |
| --- | --- | --- | --- | --- |
| 6-05 | Bucks Baseball | 4 | CS Knights - Maroon | 8 |
| 6-05 | SGSA Sharks | 15 | CS Knights - Maroon | 0 |
| 6-05 | Pines - DeRosso | 2 | Bucks Baseball | 3 |
| 6-05 | SGSA Sharks | 0 | 5 Star National Griffis | 8 |
| 6-05 | Pines - DeRosso | 5 | 5 Star National Griffis | 7 |
| 6-06 | CS Knights - Maroon | 2 | Pines - DeRosso | 4 |
| 6-06 | SGSA Sharks | 4 | Bucks Baseball | 5 |
| 6-06 | 5 Star National Griffis | 5 | Pines - DeRosso | 4 |
| 6-06 | Bucks Baseball | 3 | 5 Star National Griffis | 13 |
Event Address: 3625 CAVERNS RD, MARIANNA, FL 32466

Map and Directions
Weather:
MARIANNA WEATHER